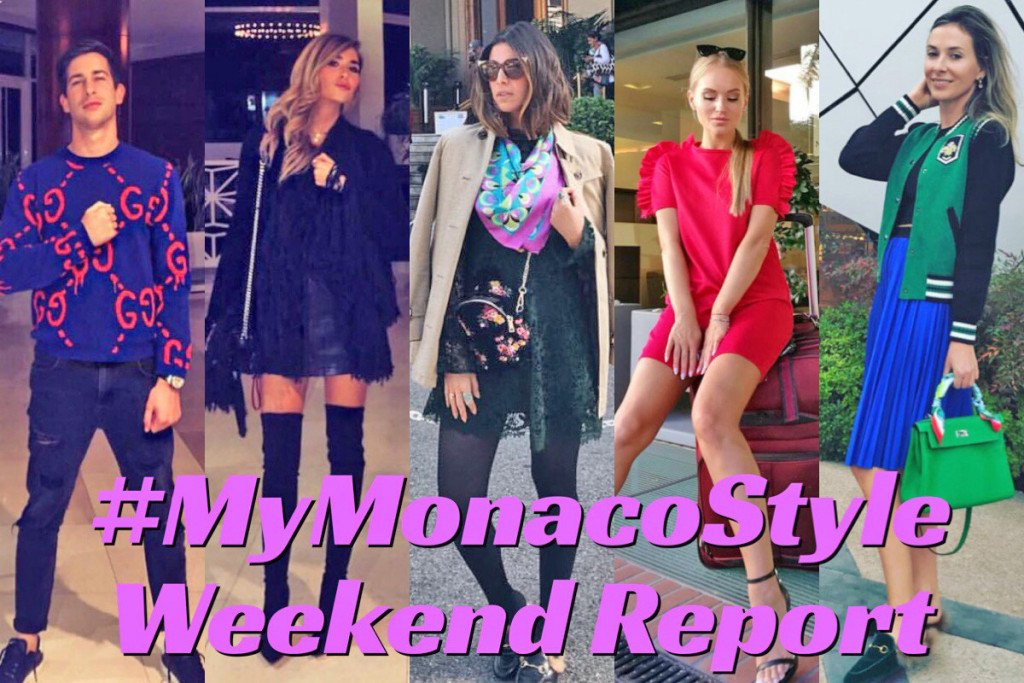 Happy Monday guys! Hope you all are feeling rested and refreshed because a crazy week is ahead of us. Halloween, collection launches, cocktail parties, my schedule is a bit out of control. Of course the real nightmare is what to wear … I don't even have my Halloween costume planned yet. Anyways the fashion ante has been upped. The style competition around the Principality is heating up as it's cooling down. It seems like everybody and their mother is wearing things on my personal Wish List. I need to join the Gucci Princetown Loafer Club asap! I'm intrigued, I'm envious, I'm in awe. Sometimes I get messages about how the people I feature have great fashion looks but they're not realistic for everyday situations. Here's what I say to that: This is Monaco, there's a Prince and a Princess who live in a palace on the hill. If you want real life pop into France … or Zara. But I hear you guys and for this report I took a little bit of a different direction with how I looked at style around. With that being said, if you're wearing anything Gucci by Alessandro Michele you're probably landing in here.
Alberto Franceschi & Natasha Tozzi
@albertofranceschi @natashatozzi First up, let's start the weekend style report with the first ever #CoupleGoals! I spied with my little digital eyes Alberto Franceschi, cofounder and brand manager of Hide & Jack, and Natasha Tozzi haunting the halls of the Fairmont Hotel. But who needs to dress like a restless spirit when you can wear the Trouble Andrew x Gucci "GucciGhost" print sweater (I need this!) like Alberto who kept it dark with black jeans and Hide & Jack sneakers. Natasha was feeling chic and witchy in black fringe and leather and over-the-knee Casadei boots that probably would not come in handy when trying to outrun zombies and goblins and such but hey they're cute! Is anyone else getting Scooby-Doo Fred and Daphne vibes from this stylish duo or am I going overboard with these haunting references?
Thaluana Ramalho
@thaluanaramalho This Brazilian fashion influencer exemplified perfect girl on the go style as she zipped around Monaco this week. While skin seems to be a year round trend in Monte Carlo, Thaluana kept it classy in a beige trench coat perfect for fluctuating weather, a colorful scarf, a green lace dress that has me wistfully thinking back to the days of Blair Waldorf and Gossip Girl, tights (also very Blair Waldorf), Fendi sunglasses and Gucci Princetown fur loafers. Loving this look but dear Thaluana next time can you bring us some Brazilian weather? xoxo.
Gintare Gureviciute
@gintare.gureviciute Someone that seems unconcerned that it's almost November is Lithuanian television host Gintare Gureviciute. While all her looks across the weekend were amazing and perfect instababe inspo, my hands down favourite was the simplest one of all. Stunning in a little red dress with scalloped fringe sleeves and simple black ankle strapped heels and her suitcase, Gintare was a vision of how I wish people dressed to catch a flight instead of in sweatpants with neck pillows. With her good genetics as an accessory, all I'm worried about for her is how dangerously close her stiletto heel is to that grate, however as the 1st place winner of Dancing on Ice, I don't see her as someone who falls down easily.
Luganas
@luganas Last but not least, this hot wife and crazy mom seems to love her primary colours and we love her. I'm completely obsessed with this look she rocked around town this weekend; I can even see myself wearing this same look with a pair of jeans instead of that stunning cobalt skirt. Let's get into her stylish ensemble. A sporty bomber jacket is perfect for fall weather when it's just getting cooler and you need an extra layer. The woodland green colour of this bomber compliments almost any skin tone and the stripe details keep it sporty but lux. Her high-waisted pleated cobalt blue skirt adds fluidity and motion to this look elevating the undertones of sport from the jacket. A green Hermès Kelly bag and Gucci green velvet Princetown loafers let you know that while the upper half says cool mom the lower half says glam wife. Some people tend to overdo both those vibes, but together in harmony with the right pieces they create an image of calculated ease. Instagram sensation and style blogger Louis Pisano writes SuperficialLivingDiary.com. Article first published October 30, 2017.
---