The sun is out, the flowers are in bloom and Monaco Paws is back on the street. Irina Peterson and her Miniature Pinscher, Ever, are rarely apart. This week Monaco Paws found them enjoying a lovely afternoon outside the new Monaco Yacht Club.
Do you find Monaco to be very dog-friendly?
It opens a new universe. I had lived in Monaco for 17 years before I got Ever and thought I knew a lot of people. Since having him the number of people I know has doubled. Is it easy to keep Ever with you all day?
Yes, he comes to the office with me everyday and has a bed there where he rests quietly while I work. He hates to be alone, but he is not a "bag-dog"; he won't stay in a bag. He feels a little offended to be put in a bag. How has Ever affected your life?
He has changed my life for the better. I have learned so much. Dogs just help you to be 100% in the present. There is no dwelling on the past or worrying about the future. He is my dog, but I also feel like I am his human and therefore responsible for his happiness and well-being. It is a mutual and reciprocal relationship.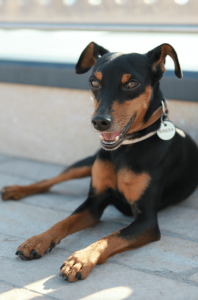 What do you like about Miniature Pinschers?
They have lots of personality, I love their looks and they are very adaptable. They can be very active and athletic, but also calm and affectionate. He is friends with everyone. He likes kids and all animals; cats, dogs, rabbits and even turtles. Is it an intelligent breed?
He is very smart and a little cheeky. I can't fool him more than twice. He had some formal training and is very well-mannered. He only barks if there is trouble. Once I found him barking loudly at a cupboard and when I opened it, I saw a small electrical fire had started. Pinschers often have their ears and tails clipped, why didn't you do that with Ever?
I insisted that he remain in his natural state. Plus he talks to me so much through his ears and tail. I can tell what he is thinking by the position of his ears and judge his mood by his tail. Ever looks like a very sporty dog. Does he need a lot of exercise?
He really appreciates exercise. On the weekends he runs 10K with my running club and me. Ever has also participated three times in the charity event, No Finish Line. This year he completed 75 kilometers. Have you bred Ever?
He recently became a father for the first time! The neighbor of a friend also has a beautiful Miniature Pinscher and they met in a garden in Nice and just played and got on so well. Two adorable puppies were born last August. Do you think you will continue to breed Ever?
Well, if he falls in love again, I won't prevent it.
First published May 30, 2016