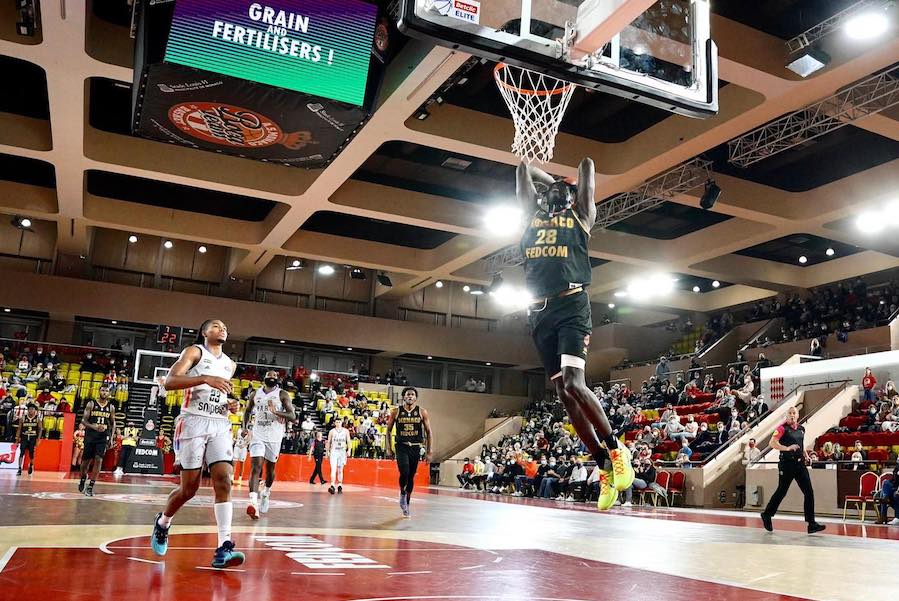 AS Monaco Basket rounded off a perfect week, securing their fourth victory in seven days with a comfortable victory against Betclic Élite strugglers Paris. The win takes the Roca team joint top of the domestic league, behind Boulogne and Lyon only on points difference.
Paris got off to a strong start in the first quarter, but Mitrovic's men quickly fought back thanks to two hoops from Alpha Diallo. By the end of the first quarter, AS Monaco had eked out a narrow 23-22 lead. The Roca side built on their lead in an impressive second quarter that ultimately put the game out of reach.
Paris Lee set the tone for the half for Monaco, two three pointers from the American went unreplied and a lead started to grow. That was followed up by Ibrahima Fall Faye who scored an impressive dunk on the counter attack to score the 8th point without reply. A dominant Roca side continued to extend their lead, and by the half-time mark it had been extended to a comfortable 15 points.
Not content with simply consolidating their advantage, AS Monaco continued to attack in the third quarter. Their lead was extended further thanks to the playmaking efforts of Mike James, whose passes and attacking incision created numerous point-scoring opportunities, which were duly converted by a clinical Roca team.
Going into the final quarter, AS Monaco had an unassailable 24-point lead. Despite a closer fourth quarter, ASM continued to impose themselves. Ibrahima Fall Faye cleverly intercepted a loose Paris pass to score an impressive solo dunk on the break. Alpha Diallo and Rudy Demahis piled on the misery for Paris late on to secure a 100-75 victory for Mitrovic's men. Diallo finished the match as Monaco's leading point scorer with 15 points.
Mitrovic was unequivocal in his praise for his side post-match, highlighting in particular the squad depth at his disposal. "Only positives, all is good… the players that I called upon all responded… This season will be a long one and I'm going to need everybody. The next match will be against strong opposition against one of the strongest sides in the Euroleague. We need to be ready."
Mitrovic will be hoping that his side can continue their winning streak away at Olympiacos on Friday.
Photo by Michael Alessi, Communication Department