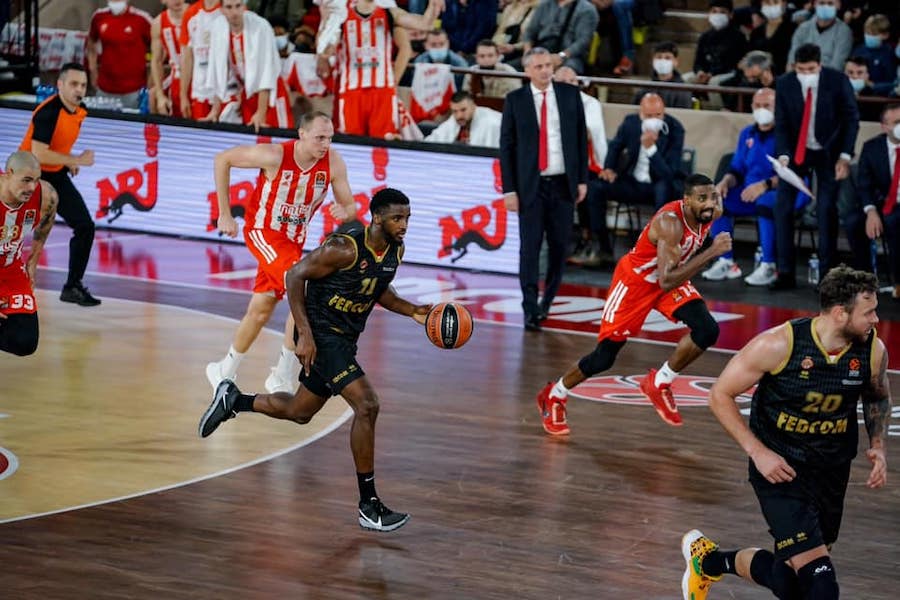 Faced with a strong Serbian team, the Roca boys had to wait until the end of the match to regain the taste of victory in the Euroleague, balancing the books ahead of their game against Moscow on Friday.
AS Monaco donned their dark blue kit for the home game against KK Crvena Zvezda Tuesday night, snatching the victory 70to 62.
After three consecutive defeats, the Roca team stumbled for a long time on the Serbian defense, one of the best in Euroleague.
Mike James missed a few shots, but the American scorer ignited pleenty of sparks. His first basket, a nine-meter shot just in front of the club logo, broke the energised Serbian dynamic after returning from the locker room, while his second three pointer gave the Monegasques the leg-up.
Struggling offensively after their good first quarter, the Roca boys returned the favor to the Serbian defense, forcing 19 losses. Aggressive and focused, Alpha Diallo led this collective effort by signing his best match so far.
The young American winger finished with 19 points, seven rebounds and three interceptions. Diallo also punished the Serbians by snatching two decisive offensive rebounds in the money-time.
"It was not a good game, it was a 40-minute fight but we expected it. It's not like against Barcelona (81-85) when we had played very well, but we take another victory in the Euroleague and it's very good for us," said Monaco coach Zvezdan Mitrovic after the game.
Monaco has an even score card with three wins and three defeats. The Roca team have the opportunity to bring down another great European on Friday, CSKA Moscow.
Photo source: AS Monaco Basketball