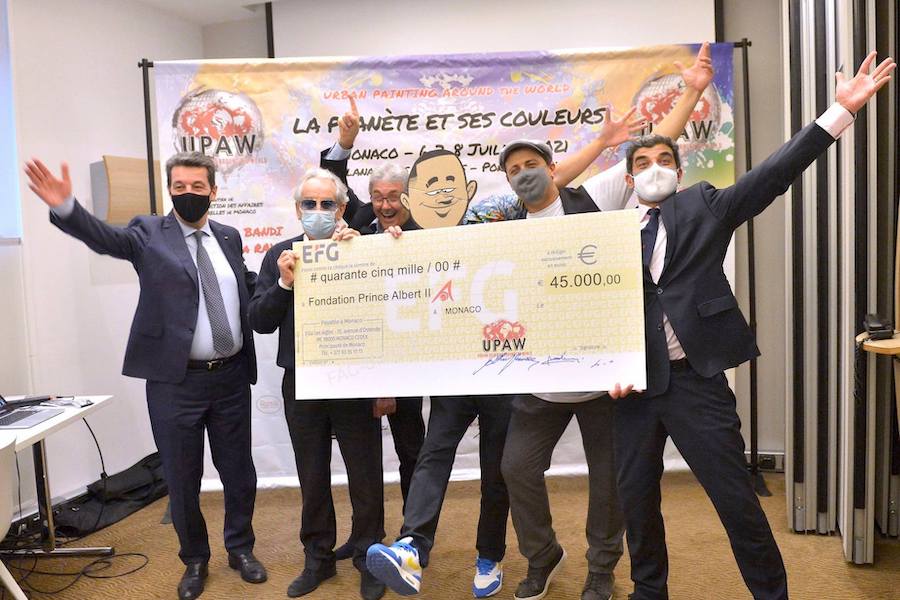 The Prince's Foundation has accepted a €45,000 donation from UPAW, a team of urban street artists who came together to raise money for the protection of Mediterranean monk seals.
This past summer, Urban Painting Around the World (UPAW) celebrated its fifth year of bringing together talented street artists who create works of art which are auctioned off for good causes.
Under the theme 'The planet and its colours', the artists gathered from 4th to 8th July at the Esplanade des Pêcheurs where they let their imaginations take over to create exquisite pieces using their chosen tool, the humble spray can.
Thanks to this event, €45,000 was collected from works fashioned by artists Andrea Ravo Mattoni, Nadib Bandi, Michael Beerens, Chicadania, El Pez, Manomatic, Mister Piro, Jacques Schneider, Cacao Rock, Mr OneTeas and Tones, and was presented in a cheque on Wednesday 20th October to Olivier Wenden, Vice-President and CEO of the Prince Albert II of Monaco Foundation (FPA2).
"Today we need to find disruptive solutions to preserve the environment," Olivier Wenden said at the hand-over event. "Engaging in art and the protection of the planet, as UPAW does, is important for raising awareness among the general public. The Foundation is very honoured to receive this donation for its action in favour of the preservation of the monk seal, a species that seemed to have completely disappeared 20 years ago."
The FPA2 has supported several projects since 2011 with regard to the conservation of this rare seal, which was feared to be extinct just two decades ago. The creation of the Monk Seal Alliance aimed to multiply existing actions and intensify concrete protection efforts.
Other beneficiaries of UPAW include chimpanzees in Uganda and the fight against plastic pollution in the Mediterranean for BeMed.
The sixth edition of UPAW in 2022 will be housed in a new location, on the Terraces of the Casino de Monte-Carlo. Next year will also see the 2nd edition of the UPAW Junior Challenge, an event co-organised with the Mairie to give young talent a chance to show their stuff.
SEE ALSO: