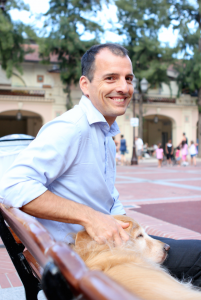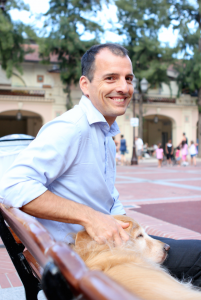 Most dog owners think that their dogs are wonderful and unique, and after spending some time with the Golden Retriever, Maya, we must agree that she is a pretty special canine.
1. How long have you had Maya?
"We got her from a breeder in the US when she was 3 months old, and she is 11 years old now. She was the princess in our house before our sons were born, but now her place has gone down a bit."
2. Does she like living in Monaco?
"She loves the sea, and she loves to swim more than anything else. She will even go in the water in the middle of winter…and then shiver for 3 hours afterwards."
3. Does she get on well with everyone?
"She can be a bit snobby, mostly she just ignores most other dogs. If provoked she gets very aggressive and the other dogs generally run away quickly."
4. What makes Maya most happy?
"She is really driven by three things; food, petting, and swimming."
5. What does she like to eat?
"She loves to eat, and eats most everything although we try to give her a mainly raw diet. She especially loves broccoli and comes running as soon as she sees it."
6. What do you like about having a dog?
"She is a great companion and when you have a dog it makes people smile and stop to chit-chat. It connects you to other people."
7. Is it difficult to have a big dog?
"We take her everywhere and take trips by car so we can bring her. She is a member of the family."
8. Maya is so calm and mellow, how did she get to be like that?
"Good breeding mostly, we choose her very carefully. And she has an amazing capacity to understand. She spends most of her time off the leash and is extremely obedient."
9. What makes Maya such a special dog?
"She is good at reading your moods. The moment I think about her, she comes to me. She rarely disobeys. She is practically a person, or at least one of the world's best dogs."