It was a hectic time in the lead up to the Monaco Yacht Show for the Cecil Wright and Partners team, not because they were unprepared, but because two of the three yachts they were exhibiting were under contract to be sold a day before the show opened. Not bad for a boutique company with a handful of senior sales brokers.
It is onboard the 50m Feadship Hanikon that I meet Henry Smith, a Partner and Director of Cecil Wright and Partners, a boutique yacht brokerage with offices in Monaco, London and Jersey. This is Henry's eighth Monaco Yacht Show, and we were supposed to meet onboard La Masquerade. But that 55-metre Amels, along with the 49.70 metre Feadship Herculina, were both under contract to be sold, leaving Cecil Wright with three expensive berth positions, and only one saleable yacht to exhibit.
Monaco Life: Can you give us the back story of Cecil Wright and Partners?
Henry Smith: Chris Cecil-Wright and I were working together at a larger Monaco based brokerage and we studied how the market was developing and thought 'there's just too much out there to know everything'. Chris has been in the industry for 30 years now, and back in the day it was possible to know every big yacht owner and every big yacht, therefore you could be an authority on everything. But as time has gone by, there are so many more yachts and so many different owners, there's just no way of knowing everything. So, our principal idea was: why don't we specialise and focus on a very specific area of the market and ace it? So, that's what we are doing, and doing it very well.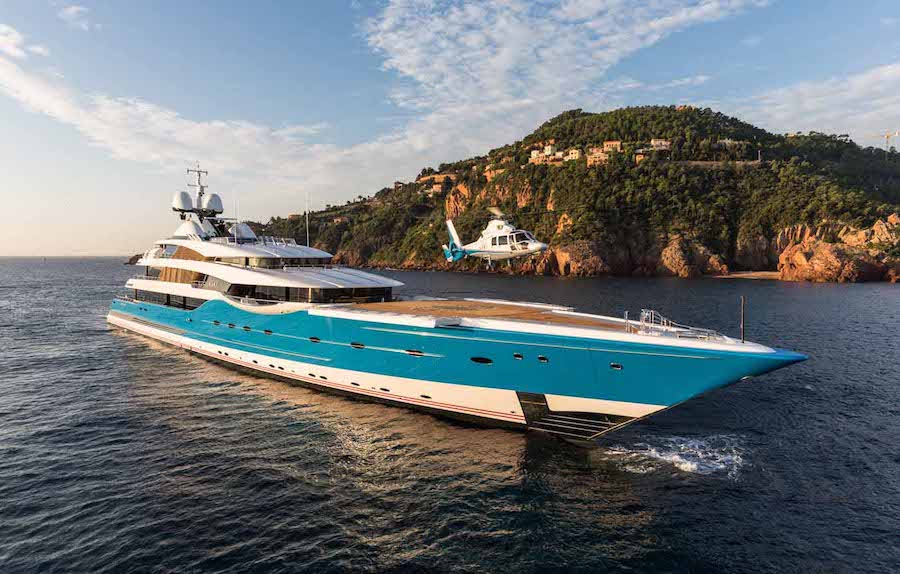 What area of the market are you focussing on?
Northern European pedigree motor yachts, specifically Feadship. We've built, bought and sold more Feadships than anyone else. It's quite extraordinary. Our 10-year plan was to be recognised as the authority on Feadship, and within three years we already had our first cold-call from a client saying he had heard we were the Feadship guys, so could we sell his Feadship? We subsequently sold the 60.55m Kingdome Come within four months.
Over the past few years, the largest Feadship sale in almost every year has involved Cecil Wright and Partners. We've also built some very sizeable yachts and have several more large new builds on the cards now with Feadship. Chris built Madame Gu, which everyone in Monaco would recognise – the iconic 99m Feadship which, at the time of delivery, was the largest yacht ever launched in Holland; Tango; Hampshire IIwhich you see here a lot on Quay Kennedy, Sherpa, … the list goes on and on.
Why Feadship?
As a business, we focus on the 50m-plus Northern European market because that is where we know we can add the most value. And we have chosen to be known as the Feadship specialists for several reasons, one of which is that the quality is unsurpassed with unrivalled craftsmanship and attention to detail. This expertise is born from years of understanding of what makes a great boat.
Another reason is that the whole working process with Feadship is quite unique compared to other shipyards. It's an effortless relationship because of the long-standing relationships we have with all the key people there, from the CEO to the carpenters. Furthermore, a crucial reason is, we always know a client will be blown away by the final build, so that's great for client retention and our reputation.
The ethos of a Feadship owner is also quite different. Instead of thinking: ''How big a yacht can I get for as little money as possible?'', they recognise that it is the quality that you are paying for and there really is a discernible difference in what yards can and do deliver.
Dutch boats have a timeless quality which is reflected in their market value, and the secondary market is historically strong for Feadship. Their yachts not only change hands for closer to the asking price, but they also move far quicker.
A key ethos that we stand by at Cecil Wright and Partners is 'fewer clients serviced better', and this underpins why we work with Feadship.
What have you noticed about the industry in the last 18 months of the health crisis?
People who were sitting on the fence about a purchase are now no longer sitting on the fence; they are very much jumping off it! And it is not just people who were thinking about buying, it is people who were thinking about doing longer-term charters who have said "Actually, I'm going to move into yacht ownership now".
There is one school of thought which suggests that unless you can commit a considerable amount of time to a yacht, there's not a huge point in buying one because there are a lot of costs and input required to ownership, and if you are only on it for one week a year, then it makes sense to charter one. You can, of course, hope to cover some of the running cost by making the yacht commercial and allowing charters to take place.
That said, some people don't like the idea of other people using their yacht, so that is obviously a different case and tends to be at the larger end of the global fleet where the yachts are run privately.
We have noticed an ongoing trend in the market which we refer to as the 'flight to quality'. This has been somewhat amplified by the last 18 months and, as a result, there really is very little left in the pedigree market.
Markets are cyclical and yachting is no exception. I would, however, expect the value retention of pedigree yachts to remain strong given the surge in demand for yachts in general.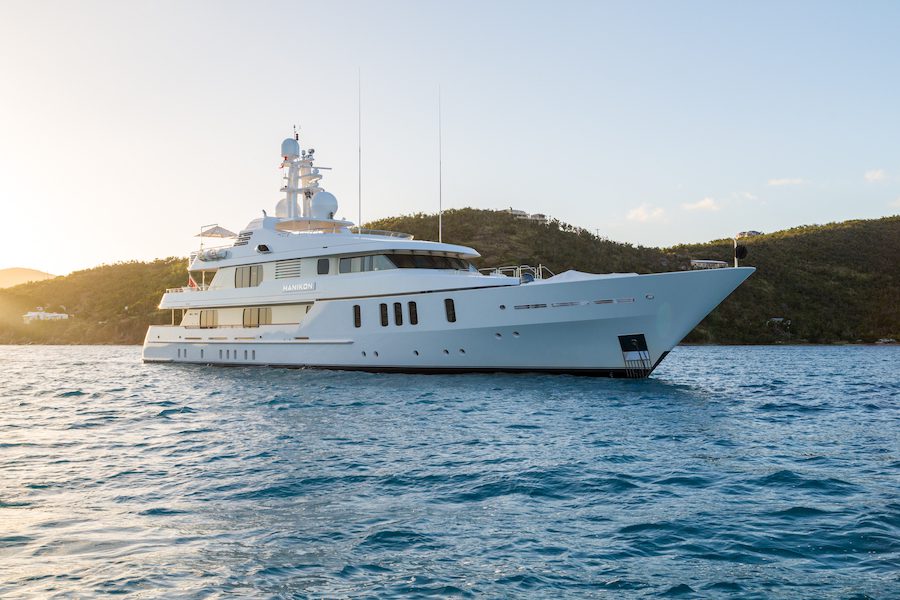 How have you found this year's Monaco Yacht Show, including the new format?
The show was a resounding success. Had you asked me what was going to happen a few months ago, I was very unsure as to whether it was even going to take place. There was a good turnout of qualified buyers who actively wanted to buy yachts.
I would say that the quality and the number of yachts on show wasn't as high as most years, but this is really down to the fact that the market has heated up so much that all the top pedigree inventory has been sold!
In terms of the new format, I thought it was an interesting idea to have a VIP-only day on the Wednesday, but frankly it should really be like this on at least three of the four days. In terms of organisation behind-the-scenes, it turned into a far more efficient process which we are all grateful for.
Where do you see the future of the luxury yachting industry?
As global wealth increases, I can only see yachting as a sector becoming more and more popular. Whilst we will definitely see the motor yacht market expand, we are also going to see a resurgence of demand for sailing yachts, and this is driven by an ever-decreasing average age of yacht buyers who are more environmentally conscious and sailing yachts are deemed to be far greener than their motor yacht counterparts.
Already, the brokerage market has largely sold out of pedigree sailing yacht stock and we are increasingly having to hunt in the off market. Thankfully, we have a lot of experience in this space and when we approach owners in the off market, our name already carries some significant clout, so we are taken seriously. In the last 12 months, 30% of global pedigree sailing yacht deals over 35m have involved Cecil Wright and Partners.
The ever-decreasing age of yacht buyers means the yacht owning tenure for the average owner is going to increase. This will make things pretty interesting for the market as a whole unless the yards can up production to match this ever-growing demand.
Where do you see the future of Cecil Wright and Partners?
We have no intention of turning into a massive brokerage, our sales count in terms of our market area is better than most of our competitors. Between Chris, Matt (Matthew Ruane), and myself, we're doing more sales per broker than pretty much any other brokerage – five deals this month alone, and all pedigree yachts in the right space.
So where do we go from here? We are not going to grow into a big brokerage as I said because we don't want the overheads or the headache. We are currently 14 people located between here in Monaco, London and Jersey. Our client base is broadly European, North American, and some Middle Eastern. We may recruit one or two more people globally, but we are where we need to be, specifically within Monaco, right in the middle of the action in Monte-Carlo. Cecil Wright and Partners is continuing to go from strength to strength, selling, chartering and building more and more Feadships and pedigree yachts.
What I would really like to see is more people coming to us for our expertise in the area, even if it just for an honest second opinion. As I mentioned earlier, our 10-year plan was to be known as the Feadship experts, and it's certainly shaping up that way.
Top photo of Henry Smith, Partner and Director of Cecil Wright and Partners, all photos supplied