Our Q&A with Monaco's Brazilian community
heads to the pitch with AS Monaco striker Vagner Love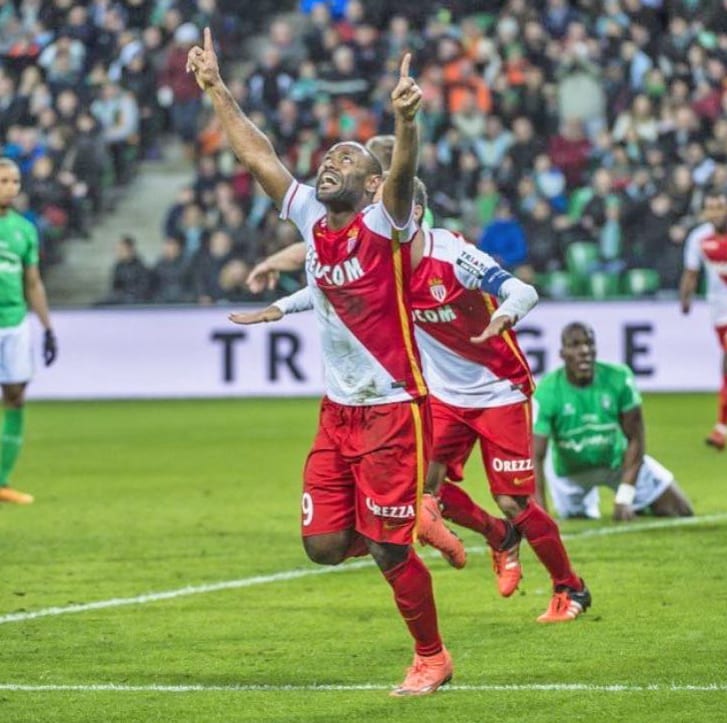 ML: You came to play for AS Monaco in January. How have you adjusted to life in Monaco and what do you miss from Brazil?
VL: My first impression of Monaco was wonderful. I came here for football a few years ago, but I didn't have much time to visit, since I had come over mostly to play. I'm adapting very well. Life here in Monaco is wonderful. The city is usually very calm. Now, with the warmer summer weather, you see that it is a bit more crowded and has more tourists.
From Brazil, I miss being with my family, with friends. I have children that stayed in Brazil, that I obviously miss. But my family here in Monaco – I live with my wife and daughter Alice – help me to overcome any homesickness. We have a great life.
ML: What is it like to be traded to a new team how do are players usually cool about welcoming new team members?
VL: It was good from the first moment I received the proposal from the Monaco team. I was very happy to be able to be here, with a team in Europe, to be able to compete in the French championship. So the decision to come here wasn't difficult at all. It was something that I wanted: to play in Europe, to play in a big team. The players really welcomed me, even though I don't speak the language. I try to talk and try to communicate somehow, and the team always treats me very well. We get along both on and off the field.
ML: How does language work when you are Brazilian but transferred to the French, Chinese, or Russian team?
VL: This part is always a little more complicated. I lived in Russia for seven years and then went to China, and now finally I'm here in Monaco. In both Russia and China I had a translator, but not here in Monaco. The coaching staff is Portuguese and that makes it a little easier when you have to have a conversation with the coach or talk team tactics or talk about some positioning on the field. So, in fact here in Monaco I'm not having too much difficulty, even without a translator. All in all up to now, the language, I think, is the thing that has had the least influence on my soccer career.
ML: Describe a day in the life of an AS Monaco player.
VL: With AS Monaco the workouts are usually in the morning, so we arrive at the training centre early and start with some breakfast. After that, some players do a gym workout before we go to the field, where we train on average for an hour and a half to two hours. Before a match, we usually arrive at the stadium an hour and a half beforehand so we can prepare and concentrate on the game. On match days, I think for soccer in general and certainly in Brazil, we usually eat pasta because it's easy to digest and the carbohydrates give you the energy you need to perform well. So this – noodles or any type of pasta – is something that forms part of the nutrition in all the clubs I've played for. We eat more pasta even after the match, to replenish all that is lost. The rest of the time we can eat more or less what we want. Of course, we cannot be eating a lot of fried food or anything too fattening!
ML: Were you interested in sports when you were a kid? How important is it for kids to develop interest in sports?
VL: I started playing soccer at a very young age, it was the sport that most interested me. Of course, I did other sports in school when I was younger, but soccer has always been my passion. I always wanted to be a football player and happily everything worked out well to get where I am today.
I believe sport is very important for children, not only for the goal of becoming a professional. If all kids could do sport regularly when they're young, this would have a positive impact of their health in the future.
ML: How do you feel about Brazil hosting the Olympics?
VL: I'm happy for my country, my state of Rio de Janeiro, to be hosting the Olympics. It's an event that will go down in the history of Brazil and of Rio de Janeiro, and I hope everything goes well, that it will be considered one of the best Olympics ever in the world. Unfortunately, I won't be able to be there to watch because the calendar here for us has already begun. We were in pre-season, now the championship has begun, but I'll try to follow from afar. And not just the soccer! There are other Olympic sports that I like to watch too. So I will try to catch as much as possible and hope that Brazil has an excellent Olympics for all the athletes the organisers and spectators.
ML: What do you see in your football future?
VL: I have one more season under contract here with AS Monaco and I intend to fulfil my contract to the end and, if the Monaco team wants to renew, I'll be very happy to stay on, to be playing for Monaco, to be enjoying this wonderful city. Once I stop playing though, I intend to go back to my town, to my country.
Our series on Monaco's Brazilian community ends with the Closing Ceremony this weekend with our final feature on professional racing driver Bruno Senna.
READ MORE ABOUT MONACO'S BRAZILIAN COMMUNITY
The Honorary Consul of Brazil in Monaco
Luciana de Montigny, President and Founder of the Brasil Monaco Project
Severiano Alves-Pereira, Executive Director J. Safra Sarasin Bank
Tereza Mahot, NavigatorsYachtClub.com
Marcos Marin, Internationally acclaimed artist