Thursday 6 PM. Monaco is a buzz. Around the Place du Casino men and women in dark suits, sensible shoes and expensive briefcases pour out of office buildings and into buses and taxis ready to head home let their hair down and unwind. Just down the street another buzz is happening. A Black Maybach, and then a Bentley Bentayga followed by cars of increasing value pull up outside 2 Blvd des Moulins. Car doors are opened. A glittering high heel peeks out. One by one, immaculately groomed women emerge from backseats, some accompanied by equally preened children. They approach the door, invitations are shown, names are checked by a charming young man named Raymond and, occasionally, some are rushed straight inside. Everybody seems to know everybody. Welcome to the Dolce & Gabbana universe.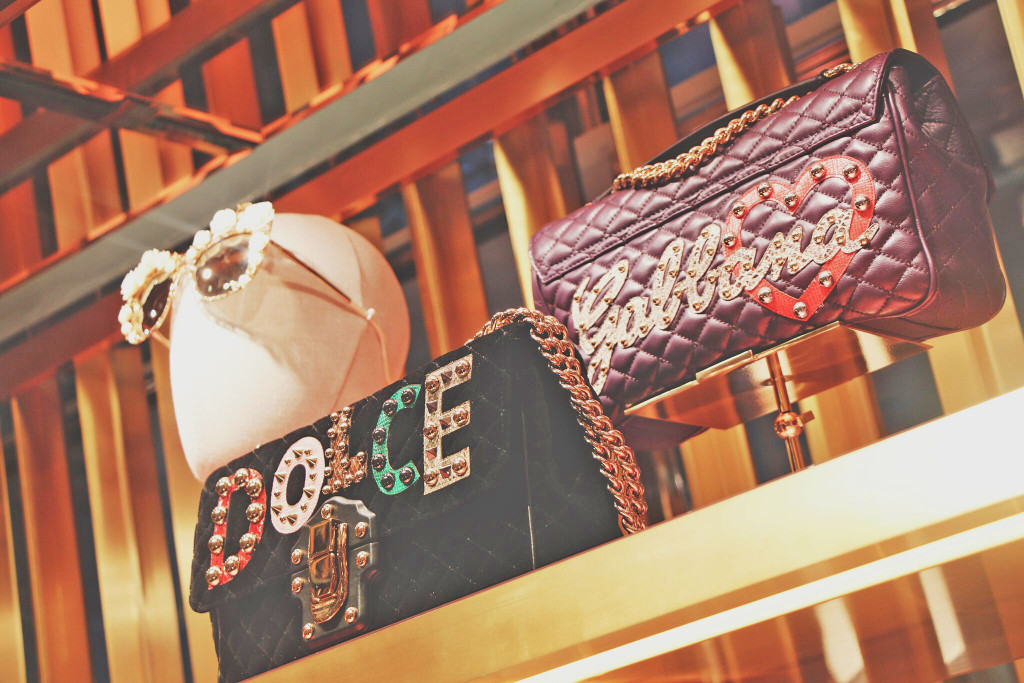 Another night means another party. Tonight we are celebrating the brand new Dolce & Gabbana boutique in Monte Carlo designed by renowned architect Eric Carlsonas part of the brands #DGEvolution project with the aim of the different stores around the world taking on their own identity in harmony with whichever city it is in. Upon walking in the new space, one can't help but stand in the centre and take a moment to take it all in. It's a cavernous affair. Three floors of marble, mirrors and gold: it's excessively gorgeous and gorgeously excessive … Monaco in a condensed form.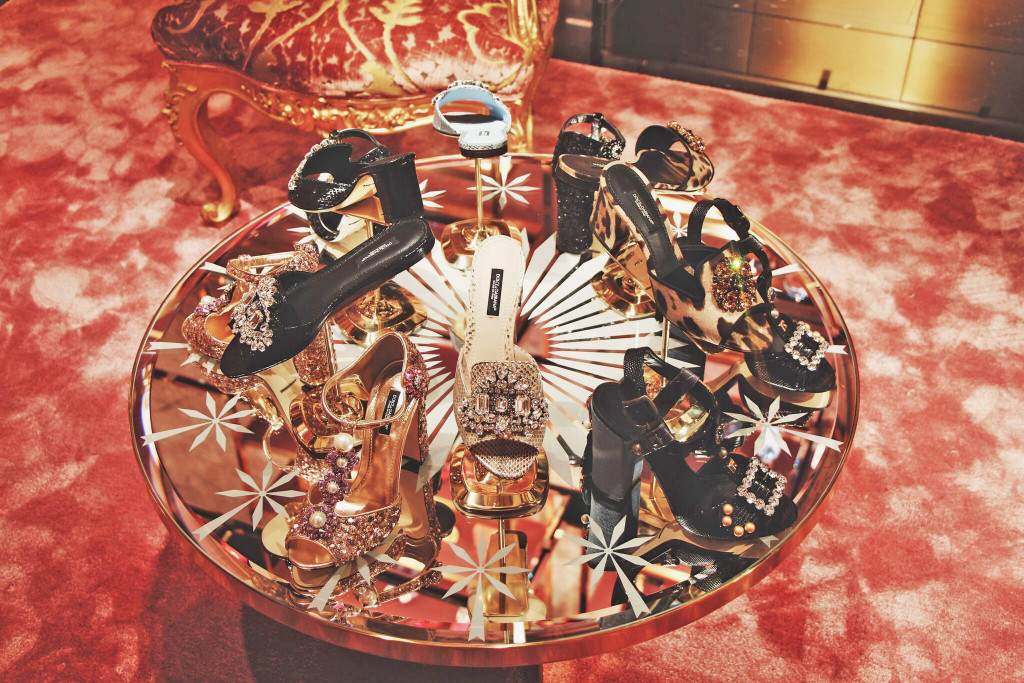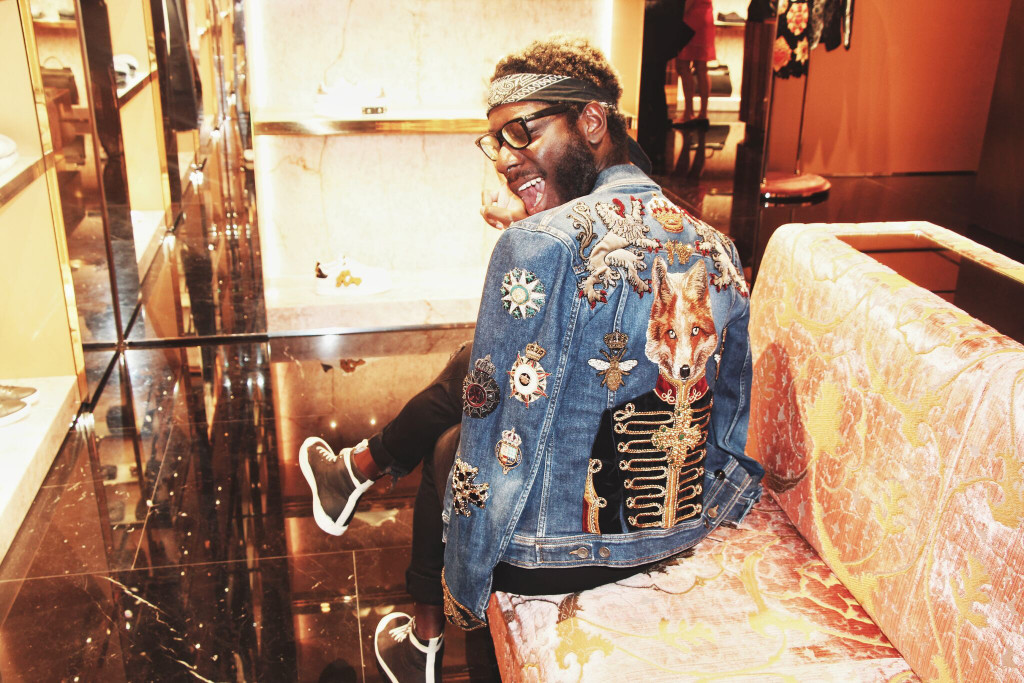 After my state of transfixation is broken with the arrival of a glass of Ruinart champagne, I venture downstairs from where I can hear the music pumping. English, French and Russian is in the air. It smells like Dolce & Gabbana The One … and money. While I'm playing "guess the season" regarding several guests in head-to-toe Dolce & Gabbana looks, I hear a familiar voice, "What are you doing in my house?" I turn around coming face to face with the original Dolce & Gabbana muse and Alta Moda Global Ambassador, supermodel Marpessa Hennink – also, on more than a few occasions, my dancing partner at Club Plastic in Milano. She flits off to say hello to friends across the room in a gorgeous FW 17 lace floral dress, and eyes follow. In this DG world she's the OG.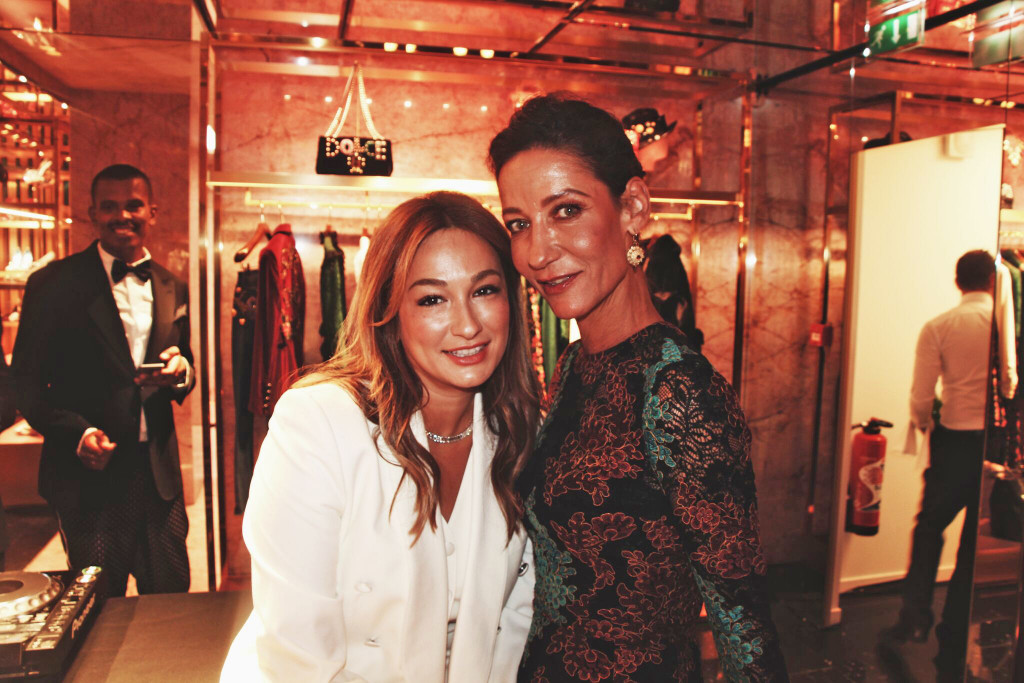 Ruinart is still flowing freely and I'm lost in the dazzle of crystals. I'm eyeing up a 3-piece purple suit in the men's area when luxury influencer Tom Claeren pops over to says hello dressed in said suit. With his videographer and personal assistant tagging behind we chat quickly about the sheer size of the boutique in comparison to the usual retail spaces in Monaco. Then again this is Dolce & Gabbana. Go big or go home.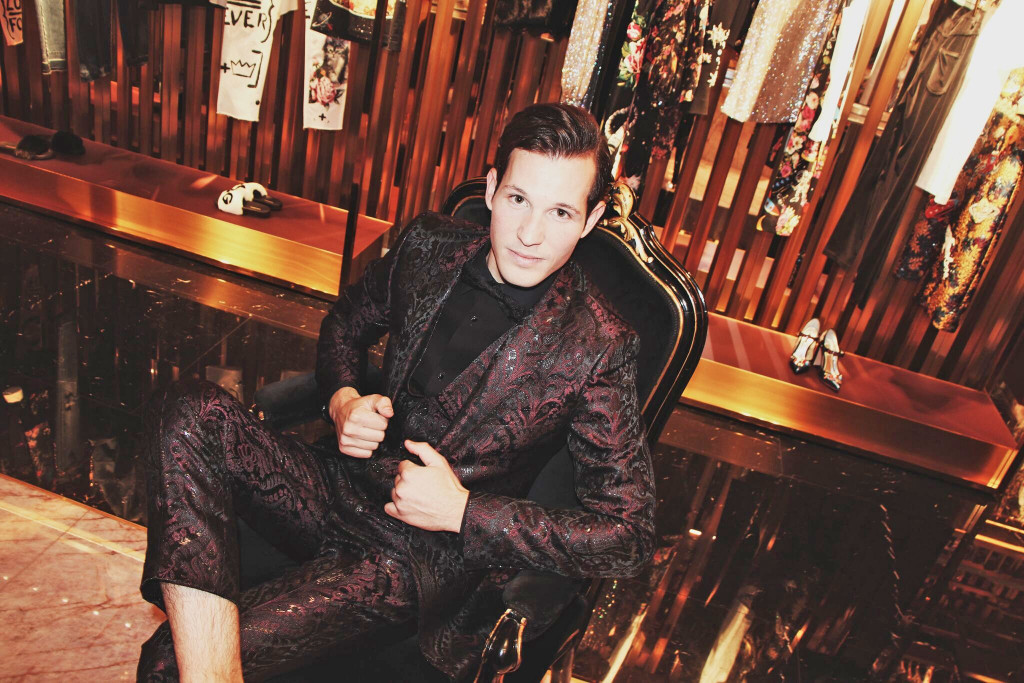 A sales associate rushes past with a pair of glittering cross earrings on a velvet tray. Behind me a group of women huddle together clutching their glasses of champagne. "Cheers to your new earrings," one whispers to another. Descending the marble stairs, I spot two familiar faces from the Parisian influencer scene. Brazilian blogger Hannah Romao of Avec Hannah and Caroline of Pardon My Obsession, sporting total Dolce looks, who spent a good portion of the evening stationed on a large pink and gold sofa on their phones, perhaps as a testimony to Hannah's bag that proclaimed across it: "All I need Is Love and Wifi".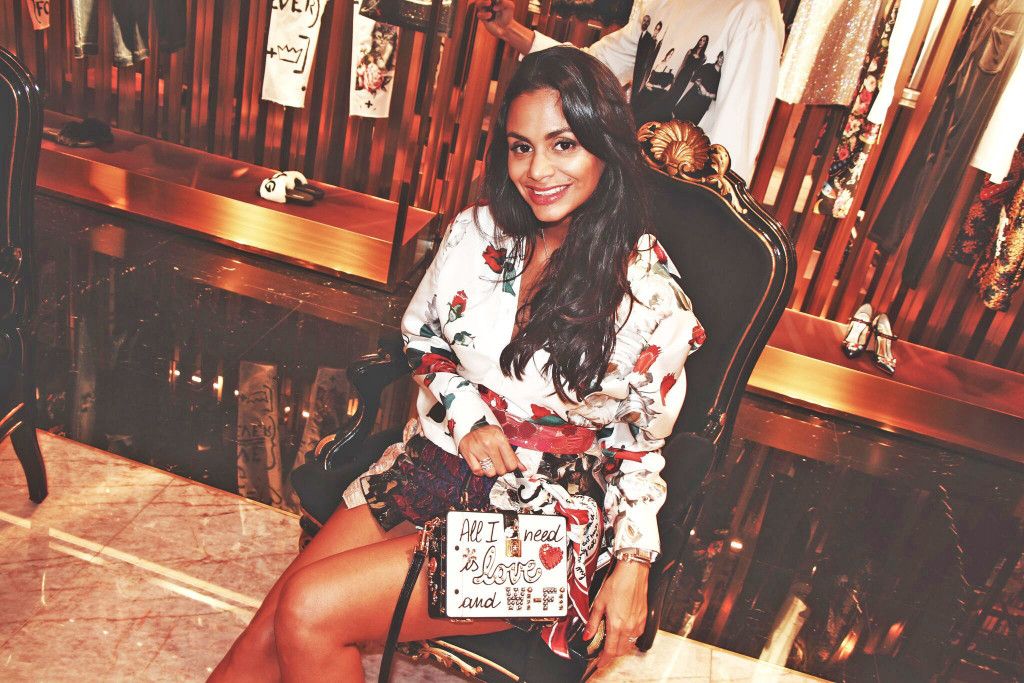 Lost in a section of cute silk cat print pyjamas I watched two older women perhaps Millenials at heart take drunken snapchats of each other while donning their sunglasses inside.
Restaurateur Riccardo Giraudi stopped by to check out the FW 17 offerings on hand. He said it was hot. I thought he was talking about the collection. He was talking about the temperature.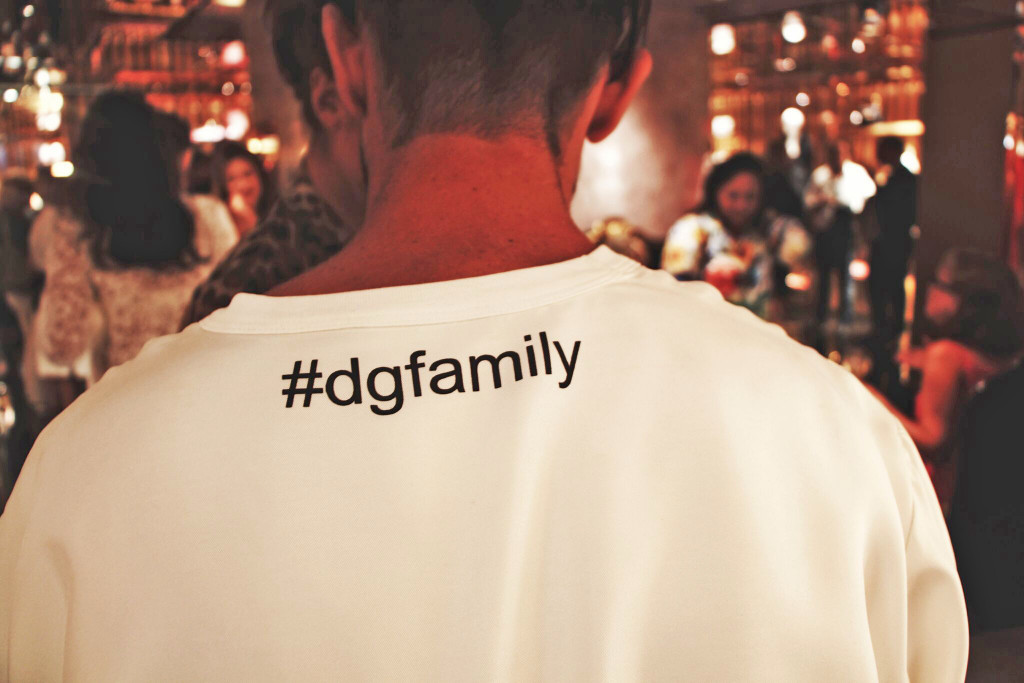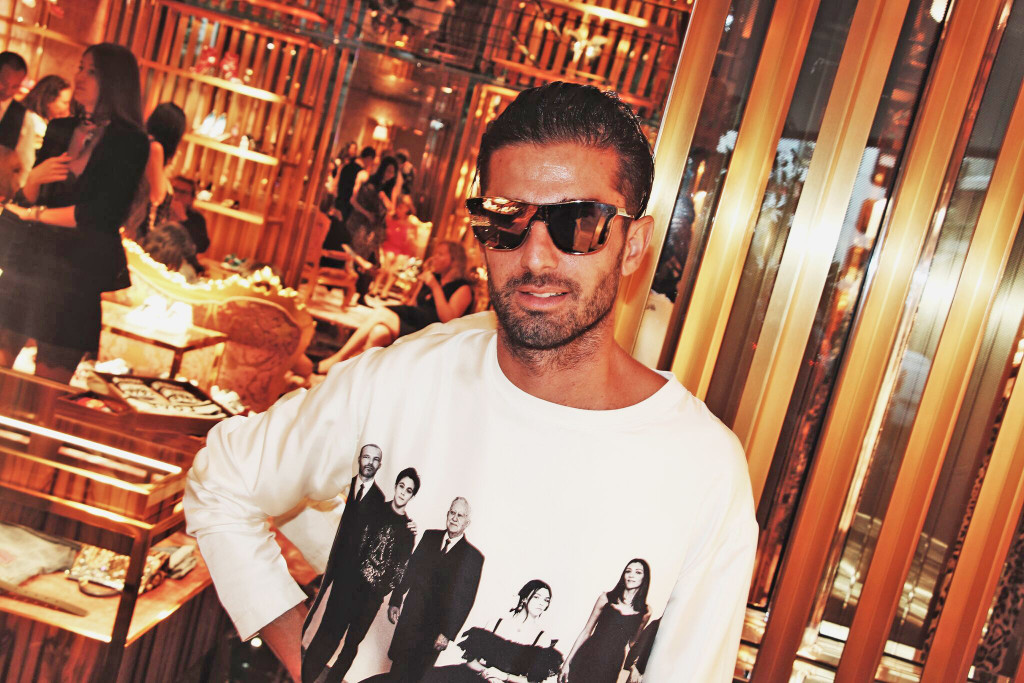 Still stuck amongst the cat print items with Dolce & Gabbana Senior PR Manager Elena Radice in between discussing the importance of social media and the fashion industry, she points out as they walk past, their special clients. It's easy to tell, to be honest, by the way the other women scan their outfits. It's one thing to be able to buy designer off the rack, it's another to have it made exclusively for you by Stefano and Domenico.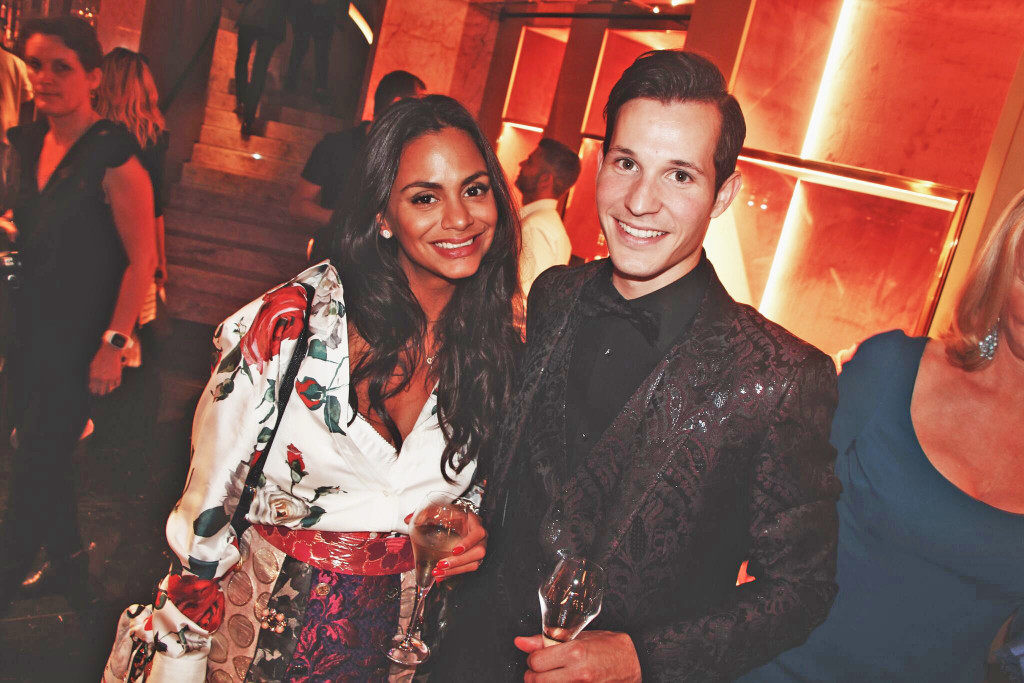 The party is winding down, the Rolls Royces and Maybachs are pulling up as the women slip out, no doubt rushing off to dinner down the street at Cipriani or Sass Café, the jewels on their dresses catching the street lights. In the front window display I spot one of the men's crowns and the now off-duty Raymond fetches it for me. It weighs more than I thought it would and I have a little Real Housewives of Beverly Hills Lisa Vanderpump moment with her tagline: "The crown is heavy, darlings, so just leave it where it belongs." With a price tag of more than €3000 I'll leave it on the mannequin thank you. However, I have my eye on a funny little fox print T-shirt I'll probably go back for this weekend. The space is a store at the core, but it feels different; it's a place that you want to spend time in, it's warm and welcoming. #DGEvolution was about creating spaces where experience and storytelling are the protagonists and one definitely can feel that in Monaco. Bravo Dolce & Gabbana.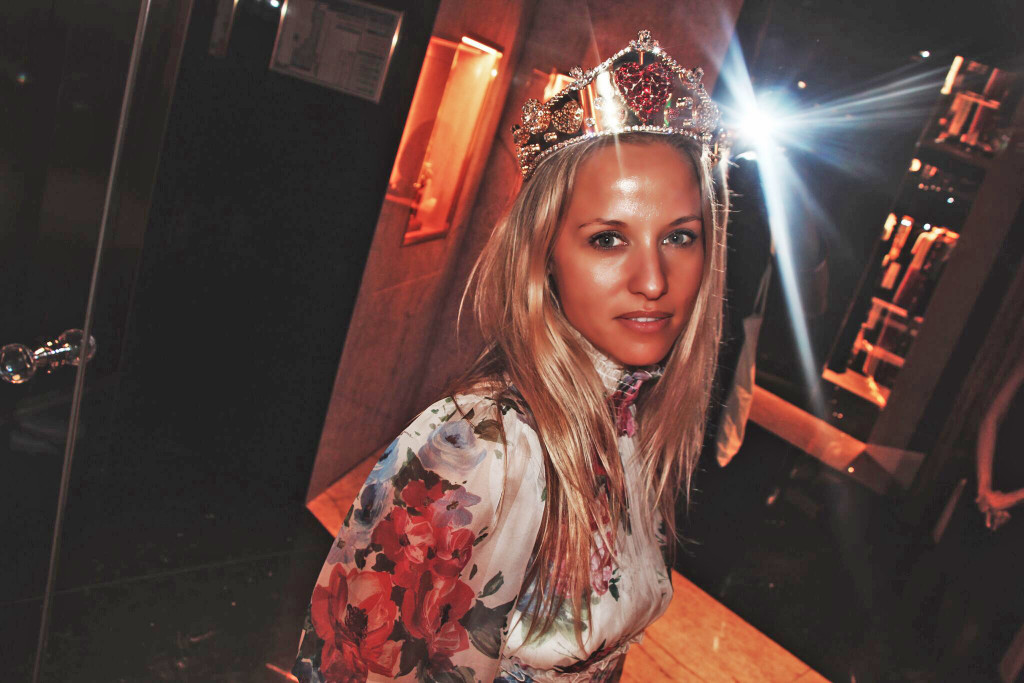 Instagram sensation and style blogger Louis Pisano writes SuperficialLivingDiary.com. Article first published September 15, 2017.
---
READ ALSO
https://monacolife.net/mymonacostyle-weekend-report-2/