Monaco is like honey to the world's brightest, most successful entrepreneurs and investors. Their stories are inspirational and motivational, and we at Monaco Life are pleased to share them you.
"I came to Monaco for the Grand Prix in May and I had a really good time," Patrick tells me as we sit in the lobby of the Hermitage Hotel. "Before Covid, the word 'holiday' didn't really exist for me. I was in a different city every few days, working non stop from 8am until 2am. I would always mix work with pleasure and enjoy travelling, but I realise now that health is the most important thing in life."
Life didn't start out easy for Patrick Tsang. Growing up in Belfast during The Troubles, he was one of the rare non-white people in Northern Ireland, speaking not a word of English the day he started at a Protestant school.
"The first day of school was very vivid to me. I was four years old and during recess all the kids got out their packed lunches with milk and biscuits. My mother, who didn't know too much about the western education system, didn't pack me anything to eat during recess. Obviously, a teacher brought me some biscuits. After lunch, we had some play time, as we were all heading back to the classroom I got beaten up by five boys, just because I didn't look the same as them. I was crying and hurt and asking myself why they beat me up. That day taught me a big lesson: you have to fight for everything that you have in life. I needed to show people that I can be just as good as them, if not better."
Patrick Tsang is now the fourth-generation chairman of the single family office Tsangs Group, an innovation-focussed company which bridges East to West and invests in companies primarily in Asia, North America and Europe.
"We try to invest by making a positive impact and positive influence with a mission to try to change the world to make it a better place," says Tsang.
That determination to do better and aim higher is in Patrick Tsang's DNA. His ancestors originated from Henan in central China thousands of years ago. They were part of an ethnic group called the Hakka, a nomadic tribe that moved all around China and were never considered 'locals' anywhere. About 700 years ago, the family emigrated to Hong Kong, which was essentially made up of fishermen and farmers, where they settled.
"My great grandfather came from the period during the Qing dynasty, had four wives and little resources. As he was illiterate, he saw that the power was with the pen and not the sword. So, he decided to use all his savings to educate one family member – his oldest son, which was my grandfather."
Patrick's grandfather went on to become one of the first Chinese entrepreneurs to open multiple Chinese restaurants and takeaways in north west England, and then the first to open restaurant businesses in Belfast, Northern Ireland and Dublin, Ireland.
"I was there for 18 years before I moved to London for college. Can you imagine? A bunch of Chinese kids growing up with thick Belfast and Dublin accents," laughs Patrick.
Patrick Tsang went to London to read law and graduated from the prestigious College of Law in Guildford, England. He qualified as a solicitor in Hong Kong and England before changing careers to finance.
As an investor, lawyer, advisor and chairman of various ventures, Patrick Tsang was always on the move, until Covid hit and the world was forced to a standstill. A hip operation last year also saw Patrick Tsang out of action for three months, giving him time to reassess his outlook on life and effect positive change.
"That immature, never say never mentality changes as you get older," reveals Tsang. "You evolve to the point where it is not about me beating you, it is about me beating myself."
It also gave Tsang the motivation to start a not for profit, social impact project.
"We had two years of social unrest in Hong Kong, very similar to Northern Ireland, and I had a lot of young people asking for advice on what to study, how to buy a house in Hong Kong, etc. At the end of the day, you can't blame other people or the environment for your situation, it's all to do with your own attitude. We can't change the circumstances of the environment around us, all we can do is change ourselves and our attitude. Most of the time, successful people prevail in times of adversity."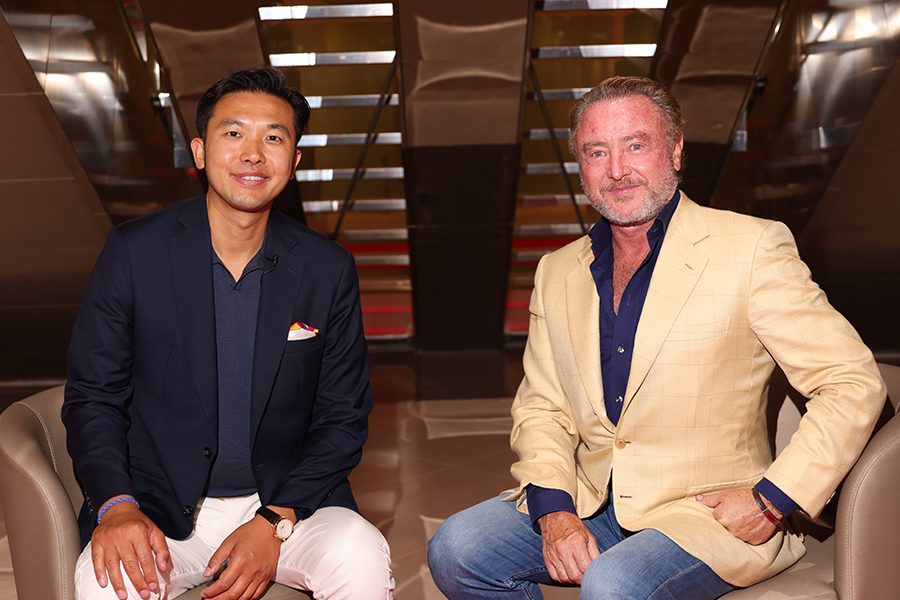 In order to share these stories of success with as wide an audience as possible, Patrick Tsang created a podcast, interviewing celebrities, influencers and successful entrepreneurs. Titled 'Anything is Possible', the podcast now boasts over 60 episodes of one hour with personalities including venture capitalist Tim Draper, Bitcoin titan Brock Pierce, and former White House Director of Communications Anthony Scaramucci.
"There are others who are not perhaps as well-known but have very interesting stories, like a 24-year-old Indian lady called Dr Malvika Iyer, an international motivational speaker, social worker and disability rights activist who suffered a bomb blast at the age of 13 and lost both her arms.
"We also interviewed Adam Cheyer, handpicked by Steve Jobs and founder of Apple's Siri. He's also the founder of change.org which has had over five billion users since it began and has been instrumental in women's rights movements."
The interviews can be viewed on the 'Anything is Possible Podcast' channel on YouTube, Spotify and Apple Podcasts as well as DeFiance Media, a digital network broadcasting coverage of decentralised culture, finance and technology.
Patrick Tsang affirms he has no agenda with his podcast, apart from helping people.
"The objective is youth empowerment and education. I believe the same as my great grandfather, and the generations that came after him, that education is the key to everything," says Tsang. "If we can help one, five, 10 young people, then they can have a multiplying effect of helping other people in issues like sustainability, climate change, food shortages… there are so many problems that need to be resolved and only the young can change them. The young generation is our future and if we channel the right energy and resources, Anything is Possible."
RELATED STORIES:
Marc Scarpa: "We're breaking the entry barrier to the DeFi world"