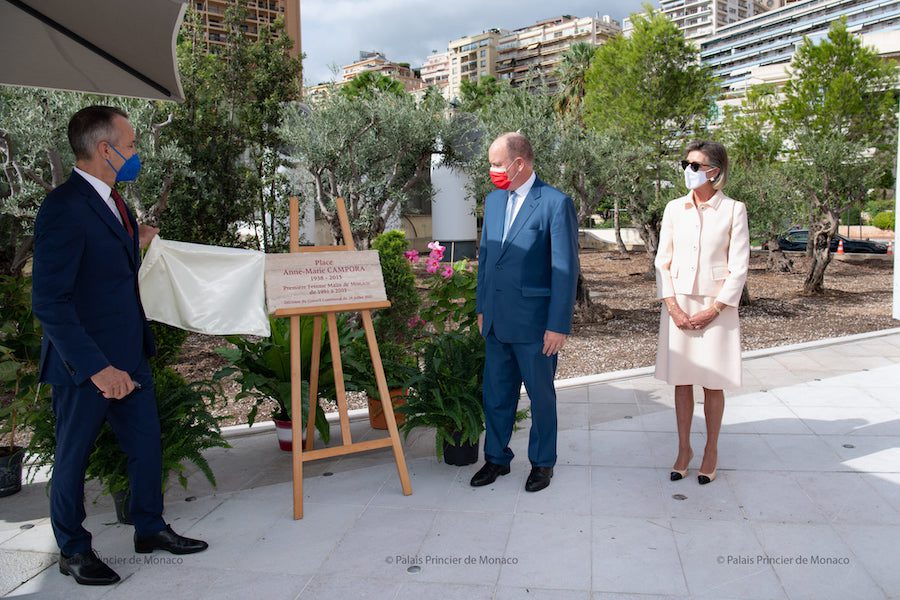 Louise-Hippolyte, Anne-Marie Campora and Joséphine Baker have all been given the distinction of having spaces in Monaco named after them in honour of the impact each made on the history of the Principality.
Three new spaces in Larvotto have been dedicated to celebrate the lives and achievements of three women who had attachments to Monaco.
In a ceremony that took place on Saturday 25th September, Prince Albert II and Caroline, Princess of Hanover were present for the naming of these new public spaces, namely the Promenade Princesse Louise-Hippolyte, Place Anne-Marie Campora and Place Joséphine Baker.
Mayor Georges Marsan, Minister of State Pierre Dartout, Monseigneur Vicar General Guillaume Paris, representing the Archbishop of Monaco, and Stéphane Valeri, President of the National Council, welcomed the Prince and Princess along with high-ranking representatives from Monegasque institutions to celebrate the inaugurations. Members of both the Campora and Baker families were also on hand to witness the symbolic event.
"The Communal Council wished that three new Larvotto spaces pay tribute to three exceptional women," said the Mayor in his speech.
The Louise-Hippolyte Promenade is named for the only sovereign Princess in the history of the Principality. Upon the death of her father, Prince Antoine I, in 1731, she ascended to the throne where she sat for only 10 months before her untimely death from smallpox at the age of 34.
Monaco's first and only female mayor has been given her own square also, the Place Anne-Marie Campora, to mark her 12 years in office which spanned from 1991 to 2003. Prior to becoming mayor, she served on the Municipal Council for eight years. She is described as a woman "entirely devoted to her city, her country and its culture" and she was known to have worked tirelessly to improve daily life for all the people of Monaco. Some of her achievements included developing support services for the elderly and creating day and childcare options for children, such as mini clubs and drop-in centres.
Last but not least, Place Joséphine Baker has been dedicated to an internationally recognised multi-talented artist and the first black woman to become a star in France. Baker was more than just a talented star, though, she also served as a counterespionage agent, at great risk to herself, during World War II and played a part in the French Resistance efforts. Later in life, she became a vocal advocate for racial equality. She is the only American-born woman to receive full French military honors at her funeral, and she is interred in Louis II Cemetery in Monaco as a result of her close ties to Princess Grace and the Principality.
Plaques were unveiled at each of the locations by the Prince and Princess, followed by a blessing from Monseigneur Paris. Music accompanied each presentation. Municipal music was played at Place Anne-Marie Campora, a piece played on the harpsichord by a professor from the Rainier III Academy on the Promenade Louise-Hippolyte, and a piece depicting the Charleston was performed by the professors of the Conservatory of Jazz at the Place Joséphine Baker.
To finalise in the mayor's words, "to attribute the names of these remarkable women to public spaces is to guarantee that they will continue to exist in memories (…) It is also to affirm the link between the history of Monaco and its future, between roots and modernity. Let us hope that these places maintain and nourish the memory of these great women, who were deeply attached to the Principality."
Top photo: Gaetan Luci / Prince's Palace