Charles Leclerc ground out an impressive fourth place finish in a topsy-turvy race in Monza, Italy, which produced some enthralling wheel-to-wheel racing. McLaren were the major benefactors of the race which was blown wide-open by a spectacular collision involving title rivals Verstappen and Hamilton.
Ferrari, although undoubtedly disappointed with their overall pace over the course of the race weekend, will be buoyed by a positive result and an impressive points haul, with Charles Leclerc and Carlos Sainz securing P4 and P6 respectively. The performance becomes ever-more impressive when considering the major setbacks which dogged Ferrari over the course of their home Grand Prix weekend, with Sainz suffering a major crash on Friday, and Leclerc suffering from illness.
Leclerc, in the knowledge that his Ferrari lacked the pace of his rivals, was particularly cautious pre-race, and sought to play down his chances of recreating his iconic 2019 Monza victory. "Winning is going to be difficult realistically, but we are never giving up, and today if there's an opportunity, we'll try to take it." Leclerc's pessimism, though understandable, was ultimately misplaced, as a chaotic race played into the hands of Ferrari, who were primed to take advantage.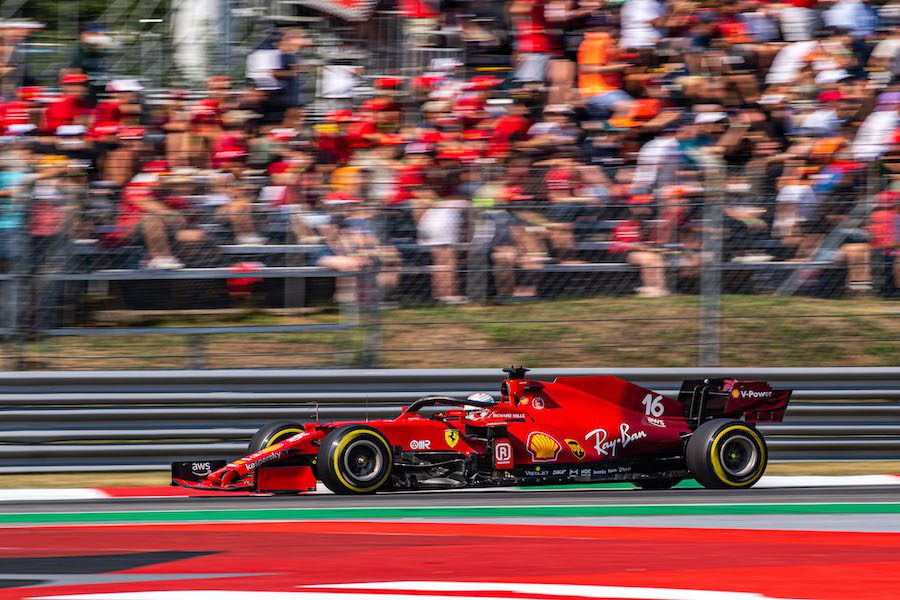 A dramatic start saw McLaren's Daniel Ricciardo snatch the lead off drivers' championship leader Max Verstappen at the opening corner, and a collision between Antonio Giovanazzi and Carlos Sainz, the latter luckily escaping unscathed. The race quickly settled down, and Ferrari's poor pace, relative to their rivals, was exposed as both McLarens, Verstappen, and Hamilton opened up a healthy gap to the Ferraris behind.
By the time of the pit window, only a matter of seconds separated the top four, and the ever-jubilant Italian tifosi were seemingly in store for a tight, nail-biting modern classic between the two championship rivals and a rejuvenated McLaren team. Two poor pit-stops, firstly from Red Bull and then from Mercedes, created a thrilling scenario, which saw Hamilton and Verstappen contesting the tight Variante del Rettifilo chicane just as the former was leaving the pit lane exit. Verstappen attempted an audacious move around the outside of the first corner of the chicane, but as the gap left by Hamilton tightened, Verstappen was left with little room. At this point, with Verstappen committed to the move, and Hamilton committed to defending his position, the subsequent collision was an inevitable outcome, and it led to both drivers retiring from the race. This type of racing incident is symptomatic of two drivers racing to the absolute limit, in what is one the most entertaining and hotly-contested drivers' championships in recent years.
The collision brought out the safety car, and it was at this point that the opportunistic Ferrari team struck – pitting Charles Leclerc and releasing him into an improbable second place. As soon as the safety car period ended, Ferrari's lack of pace was brutally exposed, with McLaren's Lando Norris making short work of getting past the laboured Ferrari. The Ferrari was then a sitting duck for the Red Bull of Segio Perez and the Mercedes of Valtteri Bottas, who fought valiantly from the back of the grid to claim the final spot on the podium. In passing Leclerc however, Perez incurred a five-second time penalty which ultimately promoted Leclerc to fourth place – an impressive result in testing circumstances.
Post-race, Leclerc revealed that he was pleased with his personal performance, but alluded to the Ferrari's general lack of pace stating that, "I put my whole heart into it today. In terms of my personal performance, I would rate this as one of my top drives since joining F1." He added, "Of course we want more than a fourth place, but taking all things into consideration I think this is a result we can be pleased with today."
The day, however, belonged to Daniel Ricciardo and the McLaren team, who took full advantage of a chaotic race to claim McLaren's first victory since 2012, and their first one-two since 2010.
Photo source: Scuderia Ferrari Press Office