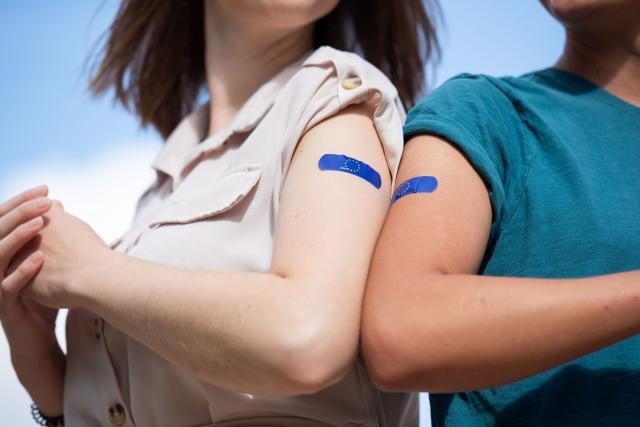 The European Commission has announced that, as of the end of August, 70% of the adult population of the European Union has been fully vaccinated against Covid-19.
The success in vaccinating 256 million people, said the European Commission on 31st August, was the result of its efforts to ensure that all countries had enough doses of the vaccine.
"The full vaccination of 70% of adults in the EU already in August is a great achievement," said President of the European Commission Ursula von der Leyen. "The EU's strategy of moving forward together is paying off and putting Europe at the vanguard of the global fight against Covid-19. But the pandemic is not over. We need more. I call on everyone who can to get vaccinated. And we need to help the rest of the world vaccinate, too. Europe will continue to support its partners in this effort, in particular the low- and middle-income countries."
The EU's strategy to vaccinate as many people as possible is led by the belief that this will help control the impact of the pandemic, proof of which has already been witnessed through lower death and hospitalisation rates throughout the Member States.
Stella Kyriakides, Commissioner for Health and Food Safety, said of the results, "I am very pleased that as of today we have reached our goal to vaccinate 70% of EU adults before the end of the summer. This is a collective achievement of the EU and its Member States that shows what is possible when we work together with solidarity and in coordination. We will continue to support in particular those Member States that are continuing to face challenges. We need to close the immunity gap and the door for new variants and to do so, vaccinations must win the race over variants."
In addition to making sure all Member States had enough to cover their populations, the EU has also exported roughly half of the doses produced in Europe to other countries. It has given nearly €3 billion to offer 1.8 billion jabs to the Covax programme, which in turn has sent them to 92 lower- and middle-income nations.
The EU will continue its efforts with Covax, agreeing to send another 200 million pre-ordered doses when they have been delivered until the end of 2021.
In order to keep up with new variants, the EC announced a new contract signed with BioNTech-Pfizer for an additional 1.8 billion doses of the vaccine by the end of 2023 including jabs adapted to new mutations. A similar Moderna contract has been signed for 150 million doses.
Photo source: European Commission press centre