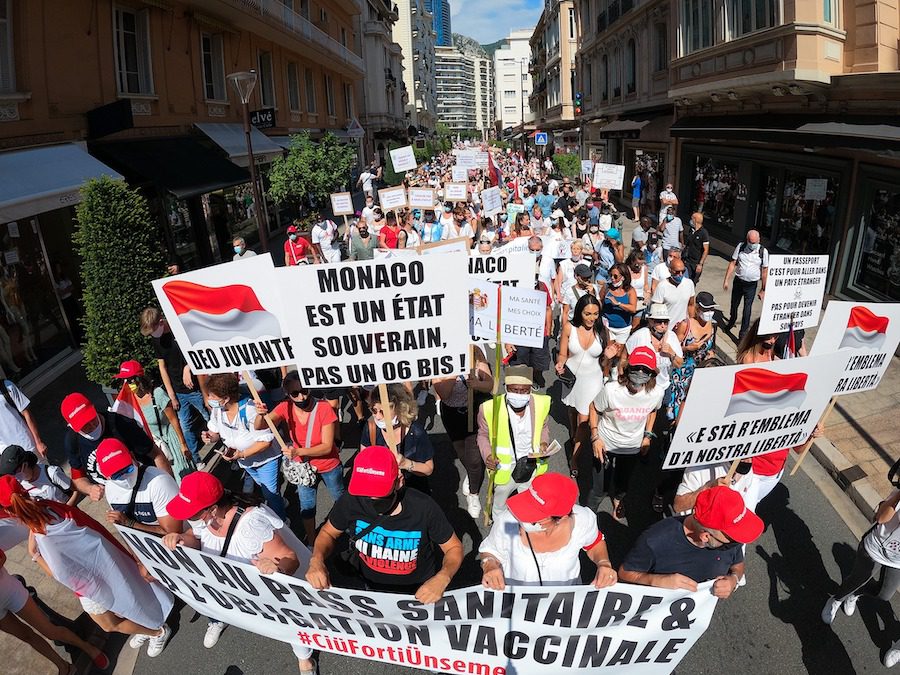 In what is a very rare sight in Monaco, hundreds of people took to the streets on Saturday to protest against the mandatory health pass in the Principality.
After weeks of widespread protests in France, it was the Monegasques' turn to shout out to the government on Saturday 2nd September. "Monaco is a sovereign state, not an 06 bis", "No to the health pass and vaccine obligation", and "A passport is to go to a foreign country, not to become a foreigner in your country" were among the messages carried by demonstrators.
According to police figures, between 750 and 800 people took part, 15% of which were children.
Organised by the Facebook group 'Peaceful demonstration against the health pass in Monaco' (Manifestation pacifique contre le pass sanitaire à Monaco), the protest was approved by the government on the condition that participants adhere to strict rules, namely no reference to the Prince and his family and respect of health rules.
The procession began in Place des Moulin at 2pm and ended at around 4.30pm at Place Sainte-Dévote.
"There is nothing to note, neither relating to public order, nor to health security and more particularly to respect for barrier gestures and the compulsory wearing of a mask. It should also be noted that the event only had a limited impact on traffic in the Principality," the government said in a public statement.
Since Monday 23rd August, the health pass mandate has been applied to residents, citizens, employees, students and hotel guests over the age of 18 who wish to consume inside restaurants and bars in the Principality.
No health pass is required for this group to enter outdoor restaurant and bar terraces.
The pass is mandatory for everyone else at these venues, both indoors and outdoors, in Monaco.
The next protest, planned for Thursday 9th September at Place des Moulins, is awaiting approval from the government.
Photo Michael Alesi, Government Communication Department