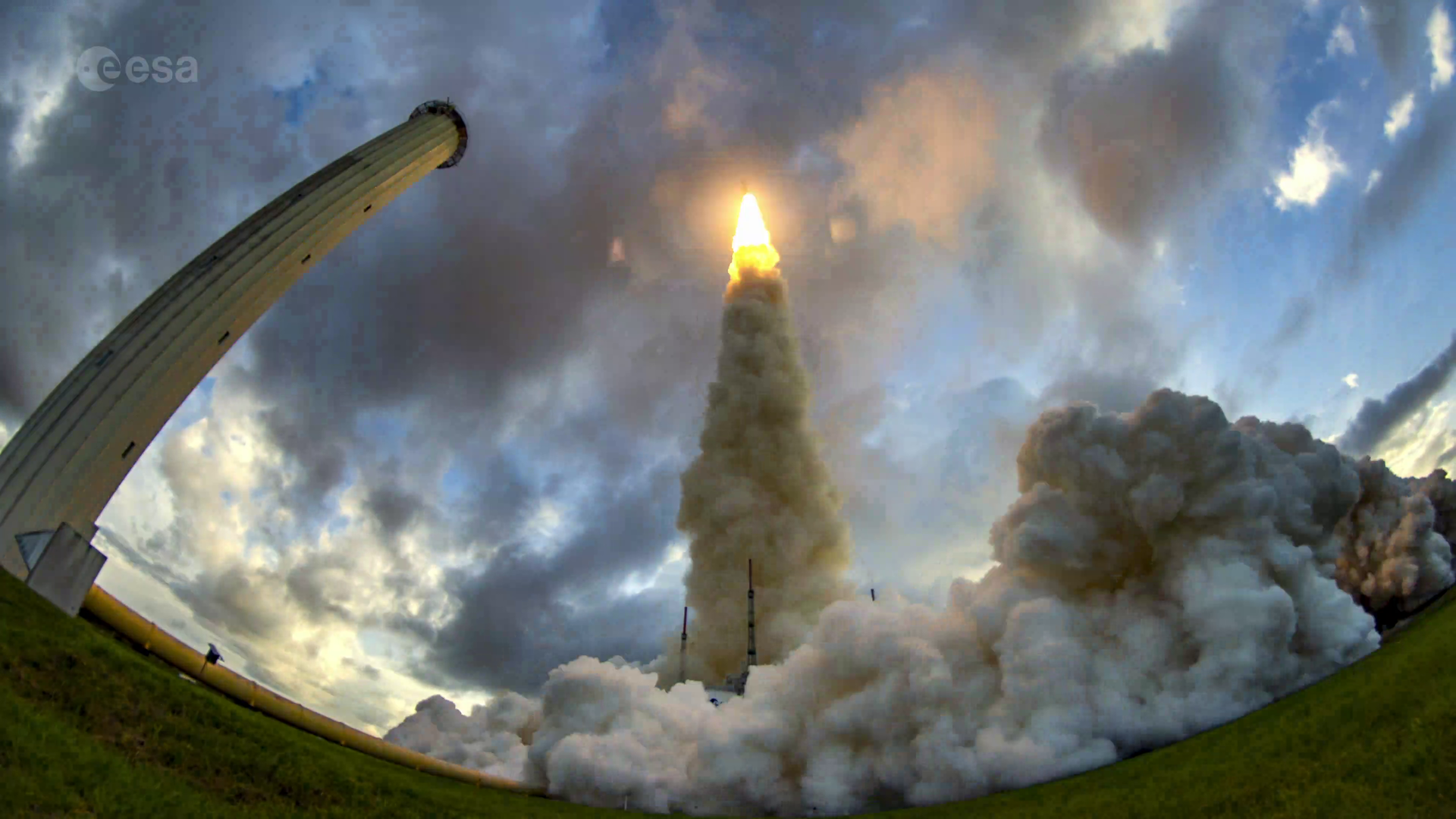 Experience the preparation and launch of telecommunications satellite Eutelsat Quantum by watching this unique timelapse video.
Developed under an ESA Partnership Project with satellite operator Eutelsat and prime manufacturer Airbus, Eutelsat Quantum has pioneered a new generation of satellites with the European space industry.
The footage was captured at the Airbus facility in Toulouse – where the satellite was assembled and tested – and Europe's Spaceport in French Guiana.
The world's first fully software-defined satellite – which will be used for communication in government, mobility and data markets – was launched on board an Ariane 5 on 30 July.
Following its launch, the satellite reached geostationary orbit some 36 000 km above Earth, where the spacecraft systems checkout was successfully completed.
Because Eutelsat Quantum can be reprogrammed in orbit, it can respond to changing demands during its lifetime.
Its beams can be redirected to move in almost real time to provide information to passengers on board moving ships, planes, trucks, lorries and other land-based transport. The beams also can be easily adjusted to deliver more data when demand surges.
The satellite can detect and characterise any rogue emissions, enabling it to respond dynamically to accidental interference or intentional jamming.
The satellite will remain in geostationary orbit for its 15-year lifespan, after which it will be safely placed in a graveyard orbit, some 300 km above geostationary orbit, to avoid becoming a risk to other satellites.
Eutelsat Quantum is a UK flagship project with most of the satellite developed and manufactured by British industry. Airbus is the prime contractor and was responsible for building the satellite's innovative payload, while Surrey Satellite Technology Ltd manufactured the new platform.
The ESA Partnership Project also federated the wider European space industry around the Eutelsat Quantum satellite.
The innovative phase array antenna was developed by Airbus in Spain, Airbus in the Netherlands provided the new solar array, and Airbus in Italy performed the modelling of the antenna elements and manufactured the feed elements.
Norspace in Norway developed the new wide-band Ku telecommand and telemetry receivers, and Honeywell Aerospace in Canada contributed the specific wide-band radio frequency elements.
A dedicated ESA team was set up to manage the project at the agency's European Centre for Space Applications and Telecommunications, based at the Harwell Campus in Oxfordshire.
ESA Partnership Projects develop sustainable end-to-end systems, right up to in-orbit validation. They maximise benefits for the European and Canadian space industries by forging trusted partnerships, thanks to efficient co-management tailored to commercial best practices.