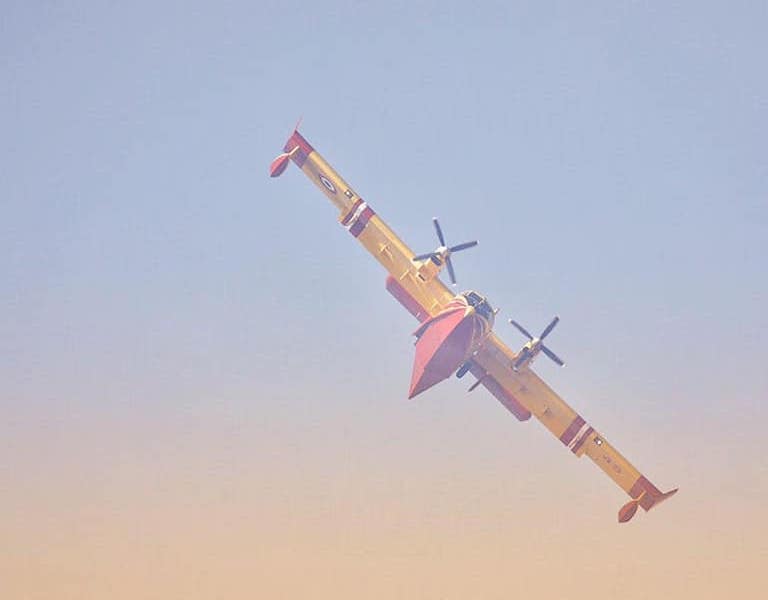 French President Emmanuel Macron left his holiday at Fort Brégançon on Tuesday to come see first-hand the wildfire situation in the Var, which he described as a consequence of climate change.
President Emmanuel Macron applauded the country's "national solidarity" on Tuesday afternoon on his visit to meet with firefighters in the fire-stricken Var region where thousands of hectares of land have been consumed by flames since Monday.
The president cited the collective efforts made by fire brigades all over the country who offered men and equipment to help douse the blaze.
"Today, 11 Canadairs were mobilised on this fire, where France has 12″, said the head of state, who was joined by Interior Minister Gérald Darmanin.
Macron has been on holiday at the presidential retreat at Fort Brégançon, also located in the Var, and thus not far from the fires.
"It is clear that when there is strong drought and wind, these events are triggered (…) We must have humility, but climate change will lead us to have these kinds of events," he said, adding, "The worst has been avoided, but the battle continues."
The fire, which started Monday evening in the hinterland of the Var, has seen the evacuation of some 7,000 people so far, both tourists and residents. To house them, 15 reception centres have been activated in the eight municipalities on the Var coast. Two departmental roads remain closed to traffic.
Firefighters have been using every means available to contain, or even just control the blaze, but difficult terrain, high temperatures and low humidity have made an already challenging situation more so. One positive is that the mistral winds, which caused the fire to initially spread very rapidly, have now died down.
"There is no more wind at all, so we will be busy drowning all the edges," said a spokesperson for the Var firefighters. "The situation is no longer alarming as it was last night, but it remains worrying," he added.
The fire area covers 6,675 hectares with 4,000 of those burned, according to the fire brigade. A thousand firefighters and 225 vehicles have gathered from all over to France to assist in putting out the fire. So far, no casualties have been reported, though three firefighters have been injured.
Photo by Aurelien Ferriere Photographie