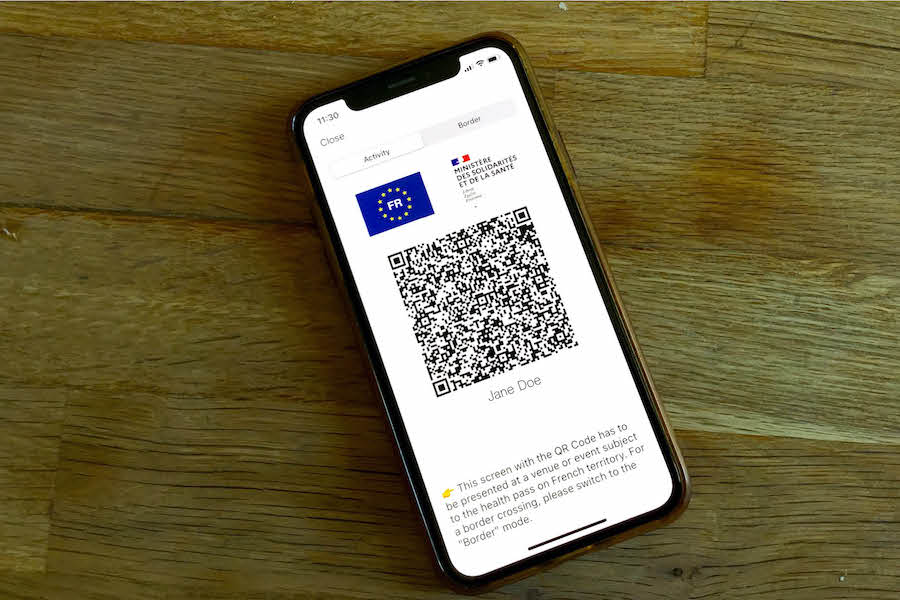 The French government has created a new system for non-EU travellers to obtain a health pass certificate. The news came the same day as the requirement for health passes for several daily activities went into effect.
As of 9th August, a health pass is mandatory in France for entry to cafes, restaurants, bars, hospitals and long-distance train and bus travel. For EU residents, obtaining a certificate is quite a simple procedure, but for non-EU visitors, the waters had been slightly muddied until now.
Previously, people from outside the Schengen zone had to find a pharmacy who would accept their vaccination cards in exchange for the French version, or hope that the places they visited would allow them to enter without the QR scan.
Now, tourists can convert vaccination certificates from their home countries into the French one with the QR code to be used just as a resident or citizen does.
"Initially, this system is only open to non-EU tourists who are already in France or who will arrive on or before 15th August," the French Ministry for Europe and Foreign Affairs said in a press release on Monday.
For foreign tourists who arrive after the 15th, Minister for Tourism Jean-Baptiste Lemoyne explains that they can submit their applications.
In order to apply, the traveller will be required to provide a vaccination certificate showing full vaccinations, a valid passport, return airline tickets and the application form in PDF, JPG or PNG form.
Applicants from the United States are asked to send their completed dossier to area1.covid-pass@diplomatie.gouv.fr. Those from Canada must remit to area2.covid-pass@diplomatie.gouv.fr, and for all other countries, the forms go to area3.covid-pass@diplomatie.gouv.fr
The subject line must state the country of residence and the surname followed by the given name of the applicant.
"As soon as the application has been processed, the QR code will be sent by e-mail," the ministry explains. "The code can then be printed out and presented on paper or electronically and will have no expiry date."
It is also possible to undertake the same process with a negative test result, but the certificate will only be valid for 72 hours.
All travel guidance information can be found on the Foreign Ministry website at https://www.diplomatie.gouv.fr/en/coming-to-france/coronavirus-advice-for-foreign-nationals-in-france
Photo by Monaco Life