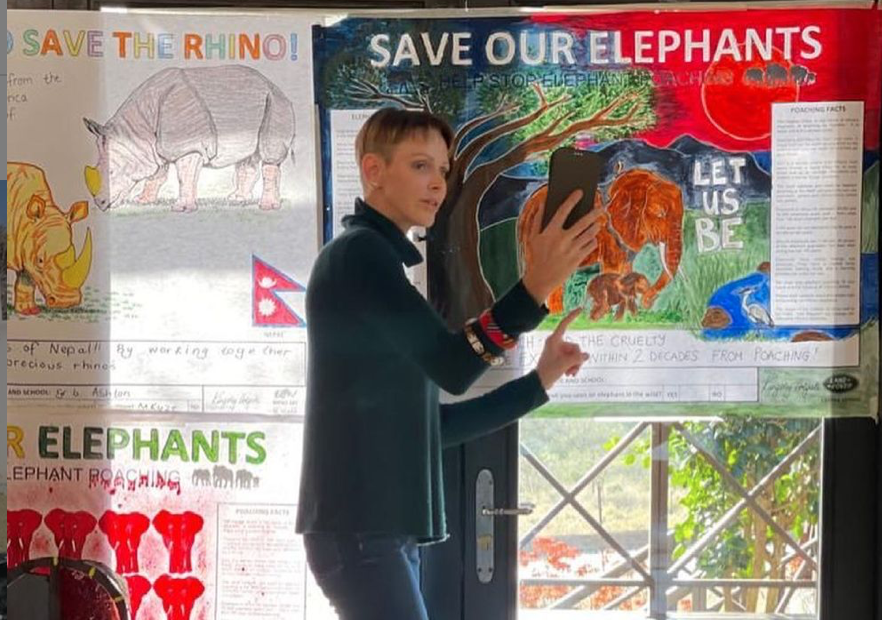 Princess Charlene says she is planning to return to Monaco by the end of October. In the meantime, she has teamed up with her husband's foundation for a species-saving mission in South Africa.
Princess Charlene's trip to her native South Africa several months ago took an unexpected turn when she fell ill with a serious infection following a sinus lift and bone graft surgery she had before her departure.
Speaking to South Africa Radio 702 host Mandy Wiener last week, the princess said, "Initially, I was supposed to be here for 10 to 12 days. Unfortunately, I had a problem equalising my ears, and I found out through the doctors that I had a sinus infection and quite a serious one. So, it's taking time to address this problem. I cannot go into full detail, but I cannot force healing, so I will be grounded in South Africa until the end of October."
The Princess of Monaco says she is feeling "well", despite playing a waiting game in South Africa. "It's the longest period I've actually been away from Europe, let alone my children, but I'm Face Timing them most days and they've been here and will be returning to see me again after my procedure. But I cannot predict how my healing process will go (…) I'm very sad I can't be with my children this summer in Europe."
When asked if she would have liked to accompany her husband Prince Albert to the Tokyo Games, the former Olympic athlete said that she "salutes the South African athletes that have taken a very high risk to be in Japan during a pandemic," but conceded, "I don't think I would have liked to have gone to Japan, no."
Despite the difficult circumstances, Princess Charlene said that it is "wonderful" to be back in South Africa, and there is now a much larger purpose to her time in the African continent.
"I have united my foundation with my husband's and I am using Sub-Saharan Africa to work because there are a number of things that need to be addressed in this country. There is a deterioration of a species, the rhinoceros, that has walked this planet for millions of years and is on the verge of extinction. Something needs to be done about this. I am using every network and every means possible to get the attention of the world, to get everyone behind me to stop this."
The Prince Albert II of Monaco Foundation revealed in June that it was uniting with the Princess Charlene of Monaco Foundation for this year's Monte-Carlo Gala, an annual fundraising event that has drawn in millions for the Prince's environment-focussed foundation.
Unfortunately, the Princess' October return date means that she will be unable to attend the exclusive gala, which will take place on 23rd September at the Prince's Palace.
Related articles:
Monte-Carlo Gala changes things up for 5th edition
Photo shared by Princess Charlene on her Instagram account