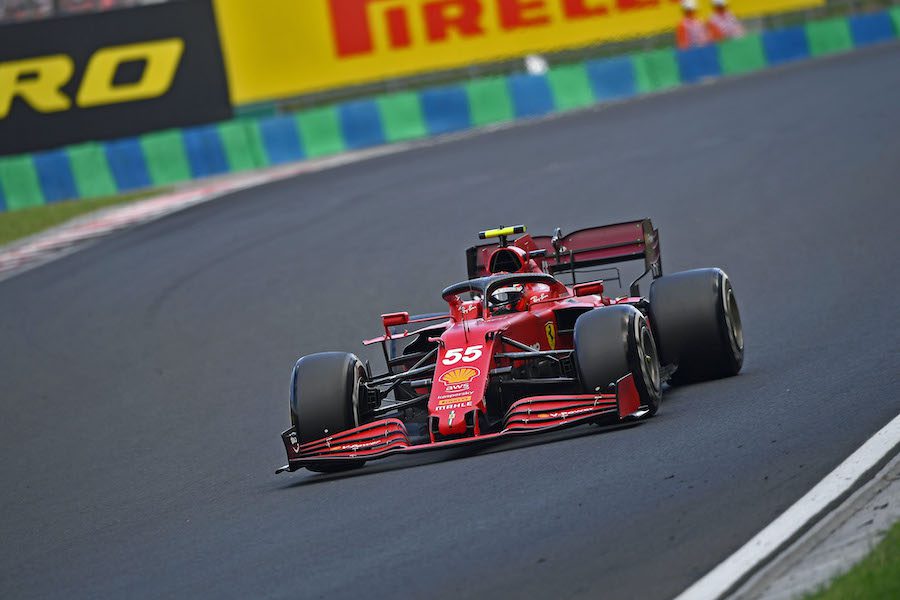 Charles Leclerc's Hungarian Grand Prix lasted as far as the first corner of the first lap in a hugely disappointing day that the Monegasque driver blames solely on Lance Stroll.
It was a wet start at Hungaroring on Sunday, leading all 20 drivers to head out on intermediate tyres. Valtteri Bottas was first to trigger a crash at Turn 1 that took out Lando Norris and Sergio Perez, as well as damaging Max Verstappen's car.
Then, Lance Stroll hit Leclerc's Ferrari hard on the sidepod, immediately taking them both of the race, and spinning Daniel Ricciardo's McLaren through 180 degrees as well, before the race was red flagged.
"I don't know what to say, I mean, in most incidents I can understand whenever there are different views about incidents, but I think today it's very very clear and I was in my corner and Lance drove into me in the middle of the corner coming out from nowhere," said Leclerc after the race. "It's hugely frustrating because I knew it was an opportunity today. I went quite easy at the beginning to just try and stay in my position, and make our race later on, and then to finish like this is just s***."
Aston Martin's Stroll conceded that the day had been a "disaster".
"It was just challenging conditions, a lot going on and just a shame I'm here now unfortunately," he said. "It was just really tricky, very slippery and yes I tried to avoid the cars in front of me and it was just a disaster. It's very frustrating."
French driver Esteban Ocon took his first Formula One victory with Renault-owned Alpine. Sebastian Vettel claimed second for Aston Martin with Mercedes' seven times world champion Lewis Hamilton completing the podium after starting on pole position and then having to fight back from last
Hamilton re-took the Formula One championship lead from Red Bull's Max Verstappen.
Photo by the Scuderia Ferrari Press Office