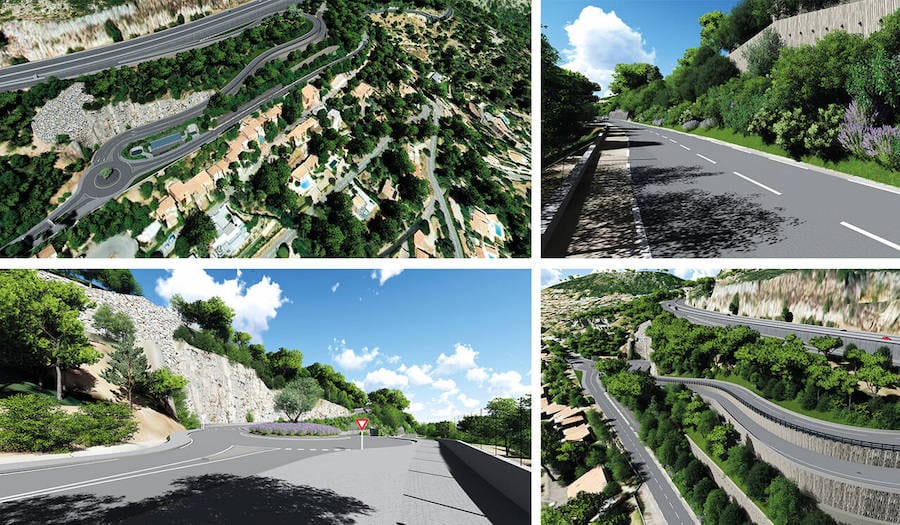 The first stone has been laid for the long-awaited new access road connecting the A8 and the Grand Corniche, designed to relieve the notorious traffic jams surrounding Monaco.
Monaco's Minister of Equipment, Environment and Town Planning Marie-Pierre Gramaglia joined French government and Vinci Autoroute officials on Tuesday in unveiling the road, which is due to be completed in 2022.
With around 47,000 people travelling to Monaco every day, this new exit road is designed to relieve congestion at various access points in the Principality including the A500 tunnel and the Moyen Corniche, and improve traffic conditions between La Turbie and Menton.
Prepatory work has been undertaken in the first half of this year, primarily the removal of vegetation, the diversion of water and telecommunication networks and the reinforcement of an embankment.
The major works are due to start in early September for a delivery date at the end of 2022. Officials have assured there will be no additional costs incurred by road users after its completion.
The project comes at a cost of 6.06 million euros, of which the Principality of Monaco will contribute 2.145 million euros, the Departmental Council of the Alpes-Maritimes 1.235 million euros, the Agglomeration Community of the French Riviera 200,000 euros, and Escota / Vinci Autoroutes network 2,480 million euros.
Photo: Vinci Autoroutes