Debbie Crumpets is the faithful companion of Stephan Bourgond. Originally from Canada, Stephan has been in Monaco for more than ten years where he is principal dancer with Les Ballets de Monte-Carlo. Monaco Paws met up with Stephan and Debbie in Fontvieille for a little stroll and chat with this charming couple.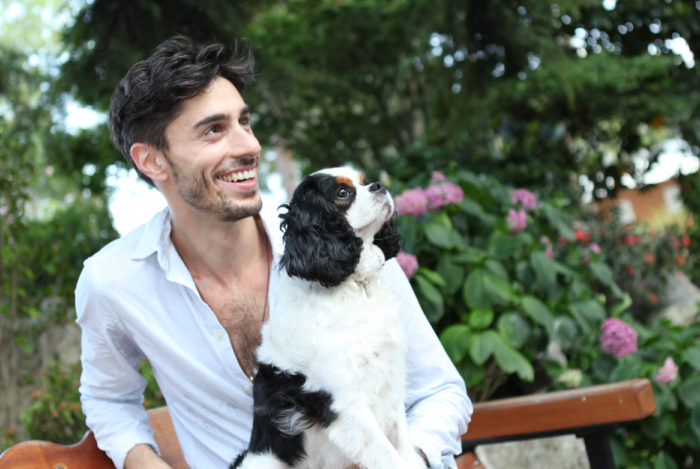 How did Debbie get her name?
I went to a pet shop in Nice with a friend who needed to buy cat food. I wasn't really planning to get a dog, but there were a bunch of rowdy puppies in a pen, and then this little one asleep in the corner. I picked her up and she just hung in my arms. She reminded me of the character "Debbie Downer" from Saturday Night Live, the one who always says the wrong thing and brings everyone down, but in the cutest possible way. She was just so chill. And since she is an English breed (Cavalier King Charles Spaniel), I added Crumpets to her name. How long have you had her?
We've been together a while now, six years. Why did you want to get a dog?
I grew up with dogs and I missed having something to care for. It is good motivation to care for something other than yourself. Have you done much training with Debbie?
We did a little training … me, Debbie and YouTube. She has a training blanket. Whenever we go anywhere I bring it and make a little space for her so that she always feels like she has a safe place and she can feel comfortable anywhere. Does she like to play?
She is a little lazy. I've tried to make her fetch in so many ways. She will fetch two times and then she sits and just watches me throw the ball.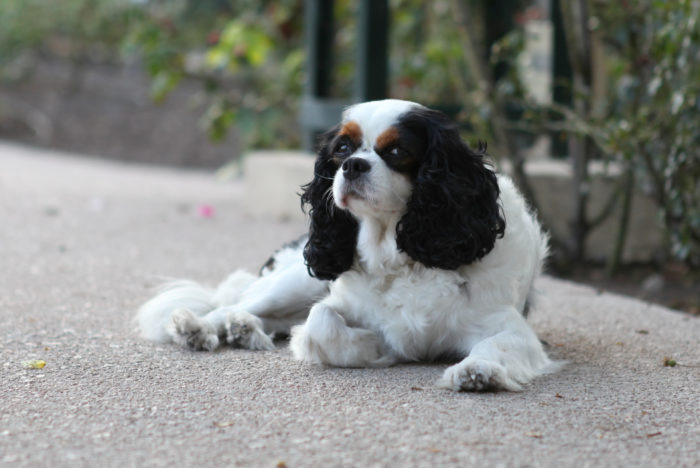 You perform all around the world. Do you take Debbie with you?
She doesn't travel with me when I work, but otherwise I travel with her a lot. I like exploring a new city with a dog, it makes me feel more like a local. Is she a good travel companion?
Yes, she is great in the car. She has been to Ibiza many, many times. And I take her to Canada when I go back to visit my family. Does she get on well with other dogs?
She is pretty relaxed; she waits for other dogs to come to her. Do you still have the energy to walk Debbie after dancing all day?
We walk at least an hour every day. It is good for her and for me. Our daily walks help clear my head. Has Debbie retained her tranquil demeanour?
Yes, she is so relaxed, it's like she is on Ambien. Everyone says we are perfect for each other because we are both so weirdly calm. Would you say that being calm is what makes Debbie such a good companion?
It makes her a great lap dog and a great conversation piece, like a painting on a wall. People become mesmerised by her stillness, elegance and poise. Monaco Paws is a collaboration between writer Siri Trang Khalsa and photographer Kaidi-Katariin Knox. Follow on Instagram @stkmonaco and @art.of.an.eye