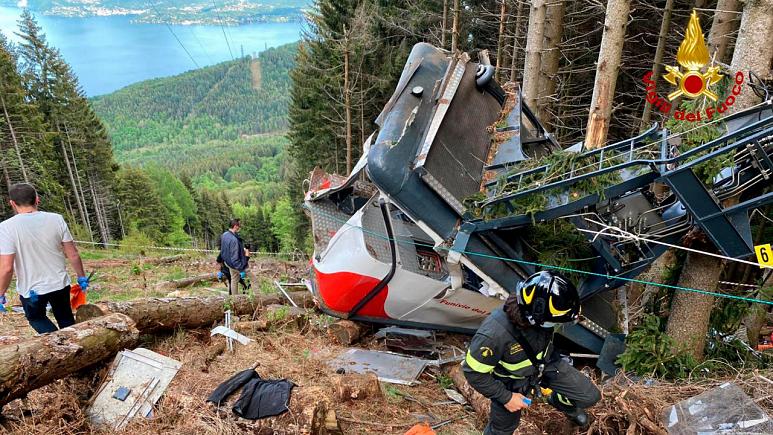 Prince Albert has sent a letter of condolence to the Italian president following the crash of a cable car in northern Italy that killed 14 people. Meanwhile, investigators say the system's emergency brakes had been deactivated to overcome a fault.
The cable car in the Piedmont region had been carrying 15 people on the 20-minute ride between the resort town of Stresa and Mount Mottarone. It was a few metres from its destination when it plummeted 20 metres into the woods below, shortly after midday on Sunday.
A five-year-old boy who is in intensive care at Regina Margherita hospital in Turin was the sole survivor of the tragedy, believed to have happened when a lead cable broke and the emergency brakes failed to activate, causing the cabin to hurtle backwards before falling.
The child's parents, who are Israeli nationals resident in Italy, his younger sibling and his great-grandparents were all killed. The other victims, including a six-year-old boy, were Italian and one man who was born in Iran and lived in Rome.
In a letter addressed to President Sergio Mattarella, Prince Albert wrote:
"Mr. President, The Princess and I learned with great sorrow of the dramatic fall of a cable car in Stresa-Mottarone. With the people of the Principality, we would like to express to you our very deep sadness following this tragedy which has left families in mourning and plunged your country into sorrow. Our thoughts are also with the seriously injured child for whom we extend deep sympathies. Please accept, Mr. President, the assurance of our unity of thought and of my highest consideration."
On Wednesday, investigators revealed that three people had been detained, including the owner of the firm that manages the aerial tramway, for allegedly making a "conscious gesture" by "tampering" with the emergency brakes in order to avoid disruptions to the cable car service.
The service had resumed on 25th April when Italy lifted some lockdown restrictions. While technical checks had been undertaken over the past seven months to "remedy inefficiencies", they had not been "decisive" in resolving issues, investigators said.
Had the emergency brakes activated, they would have held the cabin steady after the cable snapped. The move was made "in the belief that a cable breakage could never have happened".
Italian prosecutors have opened an investigation into suspected involuntary manslaughter and negligence.
Photo source: AP