Prince Jacques and Princess Gabriella joined their father, Prince Albert, on the weekend to watch the qualifying races of the Monaco Grand Prix while Princess Charlene was notably absent due to illness.
Twins Jacques and Gabriella were, as ever, show-stealers when they stepped out on Saturday to watch the qualifying races for the Monaco Grand Prix with Prince Albert. Dressed in matching Monaco Grand Prix jackets and all red and white ensembles, the six-year-olds looked as if they were having a great time. Gabriella wore a red dress and matching Alice band, whilst her brother was kitted out in white trousers and a red t-shirt. Prince Albert appeared completely relaxed and in good spirits as he strode along with the kids to watch the race and visit the pits.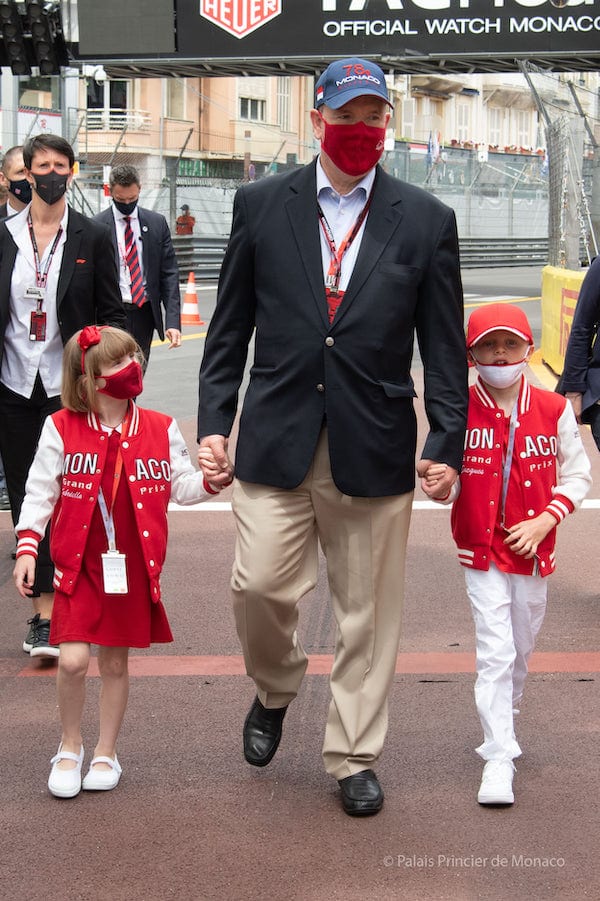 Princess Charlene was also meant to attend as a guest of honour but was detained in South Africa after falling ill with an ear, nose and throat infection that prevented her return. As reported last week by Monaco Life, she was there working on rhino conservation and raising awareness of the animals' plight.
A statement from the Palace explained the situation and her disappointment at not being there for the event.
"During a trip to the African continent as part of a wildlife conservation mission, SAS Princess Charlene contracted an ENT infection that does not allow her to travel. Unfortunately, she will not be able to attend the Monaco Formula 1 Grand Prix. SAS Princess Charlene sends her best wishes to the Automobile Club of Monaco, organiser of the event, as well as to the drivers and teams involved in this great automobile competition."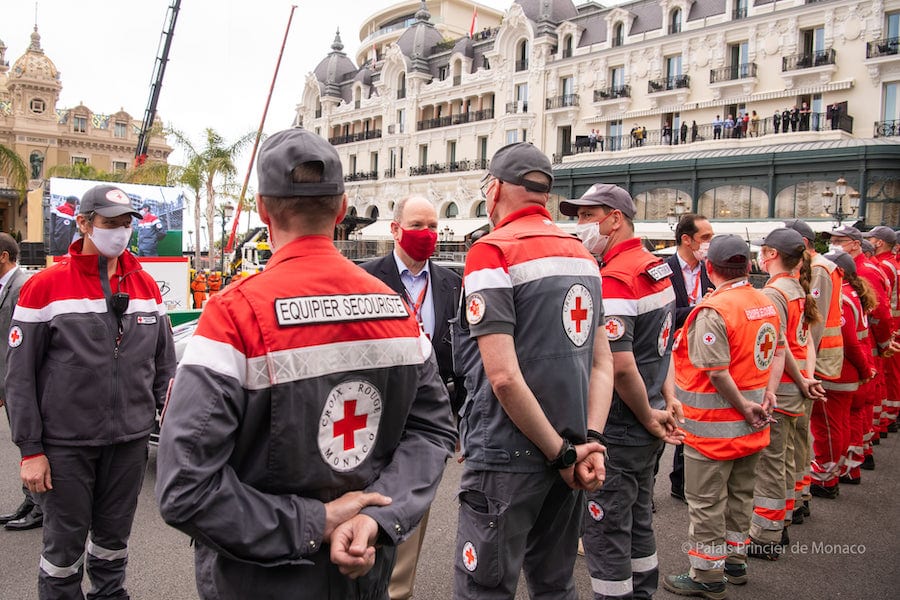 After the Prince visited the stands and racing management, he met with team members and volunteers from the Monaco Red Cross, who have been ensuring the safety of the drivers and the public since 1950.
Top photo: Prince Albert with Prince Jacques and Princess Gabriella, and Ferrari driver Charles Leclerc by Eric Mathon – Prince's Palace