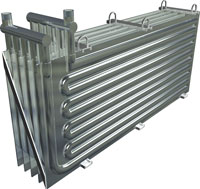 Cargo heating bank fabricated from PLATECOIL panels.
PLATECOIL Banks Reduce Installation & Labor Costs
Marine cargo heating systems are known to be expensive to fabricate, energy-inefficient, and slow to respond. Factory engineered and fabricated PLATECOIL® heat exchanger banks surpass field-fabricated linear pipecoil in initial cost economy and thermal performance. These integral, one-piece banked assemblies comprise a rugged, high-strength design. Yard installation involves one inlet and outlet connection per PLATECOIL bank. Available in carbon steel, stainless steel, titanium, and higher alloys, these engineered packages conform to ASME, U.S. Coast Guard, DNV, ABS, and Lloyds Register codes.
Cargo Hold Product Heating
PLATECOIL offers inherent design advantages when used to heat heavy, viscous products in preparation for efficient cargo unloading in cargo holds of tankers and barges. Initial cost economy is attractive, since these pre-assembled banks completely eliminate linear pipe heating components, significantly reducing onsite shipyard pipefitting labor costs.
Factory manufactured PLATECOIL systems offer superior mechanical integrity and quality assurance, along with reduced weight. Minimized yard installation virtually eliminates the possibility of damage to cargo hold coatings.
Shipboard Applications
Fuel Oil Tankers
Cargo Tankers
Asphalt Barges
ATBs
PLATECOIL Advantages
Performance—PLATECOIL banks reduce energy consumption through higher heat transfer efficiency and a chimney effect that induces more effective circulation. This effect promotes rapid, uniform heating through natural convection, reducing heating and cargo handling times significantly.